Coronavirus Update:
Our hospital is open and we are taking extra precautions to continue providing remarkable care for your pets.
Please download and review this form to learn more about our new patient intake procedure prior to your visit.
---
BluePearl Pet Hospital – serving the East Dallas area 24/7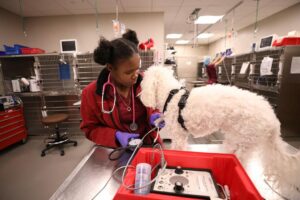 Our state-of-the-art pet hospital, is open 24/7 for pet emergencies and serves the Dallas metro and surrounding area. We're located just off I-30 in Mesquite.
Emergency Pet Medicine 
When you have a pet emergency, seconds count. We want you to know, we're ready. If your pet has a condition that requires a specialist's expertise, we're ready for that too. Our experienced veterinarians, vet technicians and support staff work closely together to provide the comprehensive, compassionate care your pet needs and deserves.
About BluePearl Pet Hospital in Mesquite, TX
Our state-of-the-art facility uses the most sophisticated and advanced medical and surgical technology. Our staff is highly trained in emergency and critical care medicine and works closely with our surgery specialists to care for your pet's most difficult moments. In the event of an emergency or significant illness, you can be assured that our specially trained staff is prepared and available to provide the very best medical care possible for your pet. 
A referral from your veterinarian is not required and you are welcome to contact us directly. Because BluePearl pet hospital is not a general care facility, we work closely with your family veterinarian to assure your pet receives the best possible care. Please ask your veterinarian about BluePearl or call us for more information.
Pet Owners
At BluePearl pet hospitals providing our customers, like you, with remarkable service is a top priority. We're committed to making your veterinary visit as smooth as possible.
Have questions prior to your visit? We're happy to help. Contact our Dallas hospital team 24/7 at 972-226-3377 or info.eastdallas@bluepearlvet.com.