URGENT UPDATE:
We are currently open and back to full capabilities. Thank you for your patience during this time. 

Our hospital is open and we're taking precautions to continue providing remarkable care for your pets.
Clients may enter the hospital – masks are not required
For clients experiencing COVID-like symptoms, please call 972.226.3377 upon arrival for curbside care
Thank you for your cooperation and understanding.
---
BluePearl Pet Hospital – serving the East Dallas area 24/7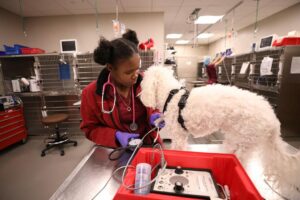 Our state-of-the-art pet hospital, is open 24/7 for pet emergencies and serves the Dallas metro and surrounding area. We're located just off I-30 in Mesquite.
Emergency Pet Medicine 
When you have a pet emergency, seconds count. We want you to know, we're ready. If your pet has a condition that requires a specialist's expertise, we're ready for that too. Our experienced veterinarians, vet technicians and support staff work closely together to provide the comprehensive, compassionate care your pet needs and deserves.
About BluePearl Pet Hospital in Mesquite, TX
Our state-of-the-art facility uses the most sophisticated and advanced medical and surgical technology. Our staff is highly trained in emergency and critical care medicine and works closely with our surgery specialists to care for your pet's most difficult moments. In the event of an emergency or significant illness, you can be assured that our specially trained staff is prepared and available to provide the very best medical care possible for your pet. 
A referral from your veterinarian is not required and you are welcome to contact us directly. Because BluePearl pet hospital is not a general care facility, we work closely with your family veterinarian to assure your pet receives the best possible care. Please ask your veterinarian about BluePearl or call us for more information.
Client Review
I want to thank Dr. Hindoyan for the compassion and professionalism that he showed my wife and I during this hard time. You don't find too many people today who will take the time or effort to do what Dr. Hindoyan did.

Read Glendon's full story here.