Animal Specialty Hospital of Florida (ASH) – serving the Naples area
Our specialty pet hospital, one of the largest and most advanced pet hospitals in Southwest Florida, serves clients throughout Collier County, FL.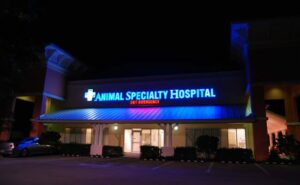 Board-Certified Specialists
Our board-certified specialists are here for you by appointment and as an extension of your primary care veterinarian when you need specialized care for your pet.
We have a team of doctors, including board-certified specialists, who provide veterinary care in:
Critical Care
Emergency Medicine
Dermatology
Surgery
Internal Medicine
Orthopedic Surgery
Rehabilitation
Our mantra is "Exceptionally skilled. Uniquely compassionate." And that is the very essence of our practice. We embrace the understanding that our patients are your best friends. They're family. 
About Our Hospital
Our 11,000 square foot hospital includes a state-of-the-art ICU including mechanical ventilation, two fully equipped surgical suites, digital radiography, ultrasound, endoscopy and a fully equipped in-house laboratory. 
We are part of the BluePearl network of veterinary specialty and emergency pet hospitals.
Located right off I-75 at Exit 101, we are your specialty and emergency pet hospital in the Naples area. 
For more information about the Animal Specialty Hospital of Florida, visit our website.