Emergency and specialty pet care in Oklahoma City.
At BluePearl Pet Hospital in Oklahoma City, we focus exclusively on emergency treatment and advanced specialty veterinary care. Our experienced team of veterinarians, techs and support staff work closely together to provide the best care for your pets.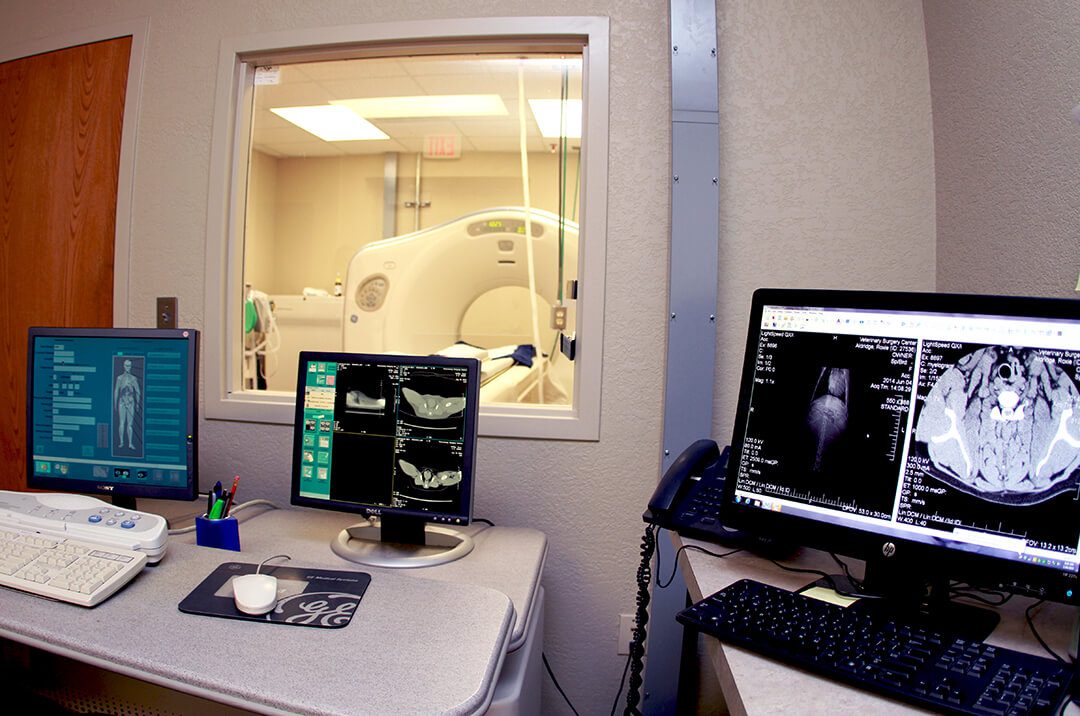 Emergency Care for Pets
When you have a pet emergency, every second counts. We want you to know our team is ready to provide remarkable care for your pets. Just call ahead to let us know you're coming – no appointment is necessary.
We're on standby for emergency situations, including:
Traumatic injury (such as being hit by a car)
Difficulty breathing
Convulsions or seizures
Ingested poison or toxic substance (here's a list of common household dangers)
Difficulty urinating
Uncontrolled bleeding
Persistent or severe vomiting or diarrhea
Lethargy or lack of appetite
Swollen or distended abdomen
Learn more about what to expect during an emergency visit to BluePearl Pet Hospital.

Anesthesiology & Pain Management
Our anesthesiology and pain management service works with other specialties in the hospital to provide safe and comfortable sedation and anesthesia for pets during diagnostic and surgical procedures. Using sophisticated tools to monitor your pet under anesthesia, our experts utilize advanced techniques to control pain.

Critical Care
Critical moments require critical care. At BluePearl Pet Hospital in Oklahoma City, our critical care specialists are here when you need them most.
Whether your pet is in need of a blood transfusion or advanced diagnostic imaging, our fully equipped hospital is well-prepared to offer the best care during those critical moments. Read on for an overview of some of the critical care services available to your pet.
Blood Transfusions
Did you know pets sometimes need blood transfusions, just as humans do? Whether your pet is undergoing emergency surgery or is suffering from severe trauma, heatstroke or another serious condition, our hospital is prepared – thanks to the compassion of your fellow pet owners.
Learn more about how pets are helping pets with BluePearl's pet blood banks.
Intensive Care
When your pet is in a crisis situation and is in need of intensive care, we're ready for that, too. Our intensive care units allow our skilled team to keep a watchful eye on your pet. Designed for your pet's comfort and safety, our ICUs are equipped with sophisticated diagnostics and monitors to track oxygen levels, electrolytes, blood sugar and more.
Intravenous (IV) Fluids and Nutritional Support
When your pet is in need of IV fluids and/or nutritional support, our hospital is prepared. IV fluids may be needed to help treat a number of conditions, from shock to sepsis.
Other conditions that may require IV fluid treatment include:
Endocrine diseases
Kidney and liver disfunction
Serious infections
Severe vomiting and/or diarrhea
Trauma
And more
Many critical patients may also suffer from severe loss of appetite. If this persists for a prolonged period of time, nutritional support may be needed and is a big part of how we help our sickest patients recover and heal to the best of their abilities. This is especially important for cats, as they can develop a life-threatening condition known as hepatic lipidosis or "fatty liver disease" if they go without eating for even just a few days.
Oxygen Delivery
Our pet hospital is equipped with a mechanical ventilator – the same type used in most advanced human ICUs. This machine allows us to treat patients with severe hypoxemia (low blood oxygen levels), severe hypoventilation (high carbon dioxide levels) and respiratory distress. A highly skilled nurse stays with the mechanically ventilated patient 24/7 until they are deemed stable enough to be weaned off the ventilator. Very few veterinary hospitals offer this advanced treatment, and BluePearl in Oklahoma City is proud to be one of them.
Pain Relief and Management
Our doctors are trained to interpret clinical signs and physical exams on your pets to help determine if they are in pain. We offer many different options for pain relief depending on your pet's condition. We carry opioids, anti-inflammatory drugs, and many other intravenous, topical and oral pain medications to help keep your pet as comfortable as possible. Pets that may be in need of pain relief include surgical, post-op and trauma patients, as well as pets suffering from bite wounds, vomiting, pancreatitis, bone fractures and wounds.
Vital Signs Monitoring
At our hospital, our vital signs monitoring is displayed on a big TV monitor that is visible to the entire hospital. This is used to detect cardiac arrhythmias (abnormal heart rhythm) or abnormally high or low heart rates. This is very comfortable for the patient, as we hook up a wireless system to three leads that attach to their skin.
Other vital signs we commonly monitor include:
Respiratory rate/effort (no equipment required)
Blood pressure (we can perform both invasive and non-invasive blood pressure monitoring such as Doppler, oscillometric, arterial catheterization and waveform)
Mental activity (mentation) and neurologic status
Temperature
Mucous membrane color
Evidence of shock, such as hypovolemic (lack of circulating blood volume), distributive (alteration in distribution of blood flow between tissues), cardiogenic (heart failure) and obstructive (obstruction of blood flow).

Diagnostic Imaging
Our hospital is equipped to offer advanced diagnostic imaging for properly diagnosing your pet, including both MRIs and CT scans. Just like newborn babies, pets can't tell you where it hurts or when the illness began. Diagnostic imaging helps us find clues about your pet's condition in order to develop the appropriate treatment plan

Surgery
When your pet needs surgery, our veterinary surgery team is ready to provide the best possible care. Our hospital is equipped with advanced tools, technology and monitoring capabilities to provide sophisticated medical care and compassionate service during your pet's time of need.
Surgery may be the best option for pets with:
Cancer
Chronic diseases like ear or respiratory tract infections
Congenital conditions like dysplasia or heart defects
Hernias
Trauma or injuries, including fractures, ligament and tendon injuries

Compassionate Treatment
Our team respects the close bond between pet owners and their pets – there's nothing quite like the human-animal bond. So at BluePearl Pet Hospital in Oklahoma City, we pledge to treat each pet we see as if they are our own – with dignity, compassion and kindness.