Emergency and specialty veterinary care in Port Washington, WI.
When your pet needs emergency or referral-based specialty care, you can trust the experts at BluePearl Pet Hospital. Learn more about our many services below.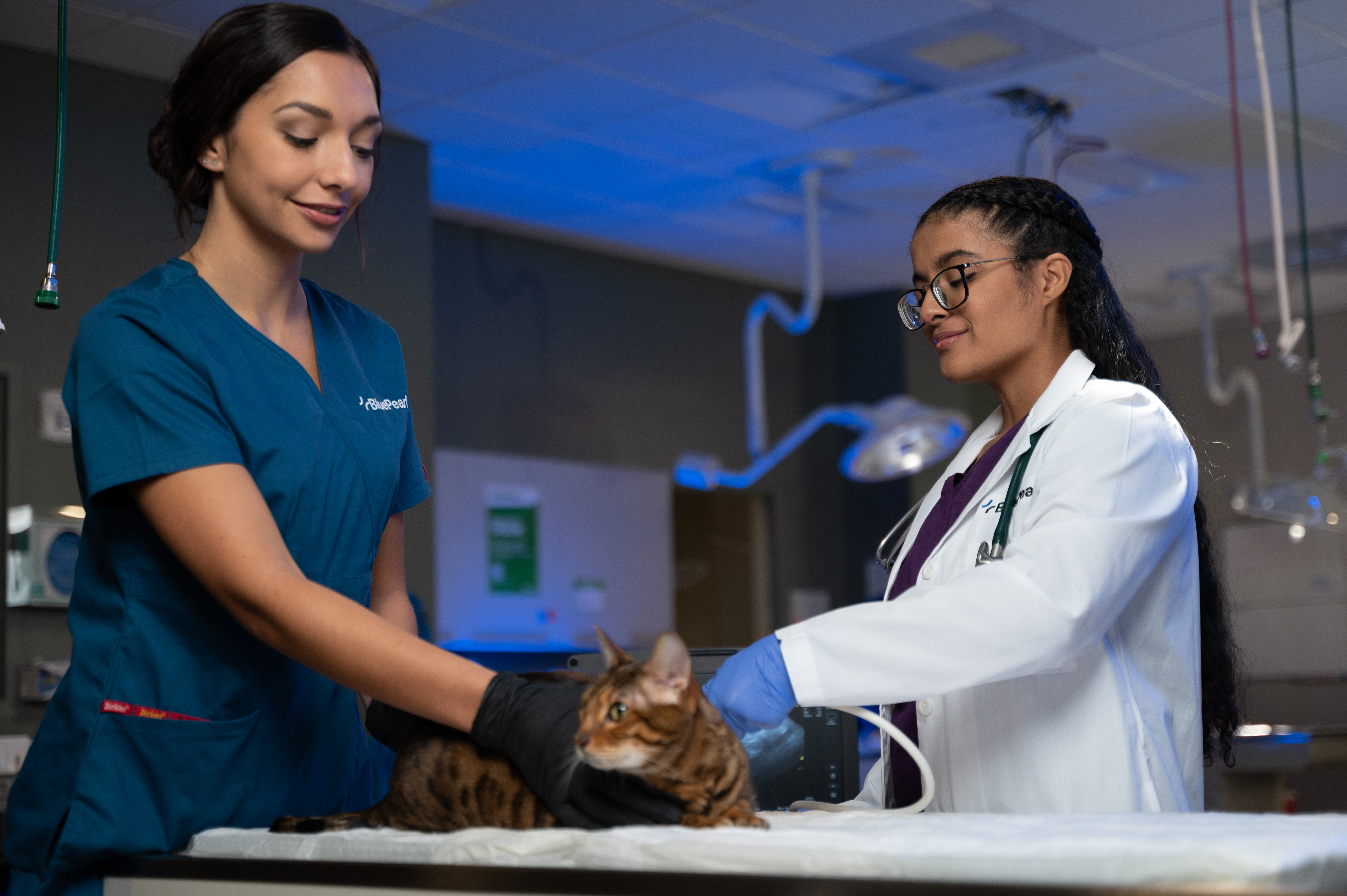 Emergency Medicine
If you believe your pet is sick, hurt or in distress, we're here to provide expert care. Our trained emergency clinicians are prepared to diagnose and treat urgent cases, including severely injured or critically ill pets. Common emergency cases we see include:
Animal attacks
Bleeding
Collapse episodes
Difficulty breathing
Difficulty urinating
Hit-by-car accidents
Ingestion of medications, poisons or objects
Seizure
Severe diarrhea
Unresponsiveness
Vomiting
Through every step of your pet's emergency care experience, we keep you and your pet's primary veterinarian informed and involved.

Dermatology
Pet allergies can be quite frustrating because it is not always simple to find the root cause. Our dermatology team brings expertise and experience in diagnosing and treating a broad range of dermatological diseases, such as:
Allergic dermatitis
Autoimmune diseases
Bacterial, fungal, viral and parasitic skin infections
Endocrine disorders
Conditions of the ear
Techniques available for diagnosing and treating dog and cat allergy conditions include:
Cytologic (microscopic) evaluations
Skin scrapings
Hair examinations
Fungal or bacterial cultures
Intradermal allergy testing
Skin and nail biopsies
Histopathology
Hyposensitization treatments
Our doctors will work with you to identify the specific cause of your pet's condition and then develop a treatment plan based on experience and proven methodologies. Our goal is to restore and maintain your pet's comfort and quality of life as soon as possible.

Diagnostic Imaging
In partnership with various specialties, our diagnostic imaging team relies on advanced equipment to aid in diagnosis and treatment, including:
Digital radiography
Ultrasound
Additional wellness services.
Bone marrow aspirates & biopsies
Minimally invasive diagnostics
STAT laboratory services
Transfusion medicine
Endoscopy.
Bronchoscopy
GI endoscopy
Rhinoscopy
Urinary system endoscopy

In-Home Hospice Services
The goal of pet hospice is to help senior or terminally ill pets live the fullest life possible for the time that remains. If your pet has been diagnosed with a painful or life-limiting condition, they may be referred to a hospice veterinarian for:
In-home senior care
Pain and symptom management
Hospice and palliative care
Quality of life consultations
End-of-life services
Our compassionate, in-home services are provided by BluePearl Pet Hospice. Please call or text 800.717.5054 to talk to our care team, or schedule an appointment online.

Internal Medicine
One of the greatest challenges in caring for animals is determining an accurate diagnosis, as quite often patients have symptoms that can indicate a number of diseases. Simple or complex, common or rare, our internal medicine doctors treat a variety of illnesses and conditions affecting pets' internal organs and bodily systems. If identifying the root cause is providing elusive or treatment is not working as intended, our team is here to help you and your pet.
We diagnose and treat diseases affecting the following body systems and organs:
Blood and bone marrow
Gastrointestinal tract
Heart/cardiovascular
Hormone systems
Immune system
Liver/gallbladder
Respiratory system
Urinary and reproductive tract
Our internal medicine doctors work across multiple specialties, providing a comprehensive approach to your pet's care, and are committed to doing all they can to improve the overall quality of life for your pet.

Oncology
As a comprehensive veterinary specialty hospital, we offer hope and help to cancer patients with our veterinary oncology treatments. The good news is that there are many options for treating pets with cancer today and animals typically experience far fewer side effects than humans undergoing similar treatment.
Many cancer patients are treated with a combination of therapies. They may include one or more of the following:
Chemotherapy
Hospice care
Immunotherapy
Nutritional support
Pain management
Radiation therapy (available by referral)
Surgery
Our team of highly skilled practitioners will work with you to carefully assess your pet and implement a personalized treatment plan based on experience and proven methodologies.
Our comprehensive, onsite laboratory allows for rapid dog and cat oncology analysis to carefully monitor cancer patients undergoing chemotherapy. Each of our hospitals has a fully stocked pharmacy as well, providing you the convenience to fill prescriptions at your pet's appointment.
Radiation Oncology
Radiation oncology for pets has advanced significantly in recent years. Our compassionate team will work with you to determine if radiation therapy is the most appropriate treatment option for your pet's cancer.
Radiation oncology services – including stereotactic radiosurgery (SRS), conventional radiation therapy (CFRT) and palliative care (RT) – are provided by PetCure Oncology by referral at our Glendale hospital.
PetCure Oncology
Phone: 833.738.4376
Web: https://petcureoncology.com

Surgery
There are times when your pet may need the help of a veterinary surgeon. Take comfort in knowing we offer the largest credentialed surgical department in Southeast Wisconsin with the strongest depth of experience. Our doctors have the expertise to perform advanced cat and dog surgeries to meet your pet's needs with compassion and care.
Our suites and treatment areas are equipped with state-of-the-art surgical equipment and instrumentation. For the comfort and safety of your pet, we employ the latest techniques in pain management, pre-operative and advanced monitoring systems. Our facilities provide a warm and soothing environment for our patients and pet owners.
We offer specialized surgical services for dogs and cats in the following areas:
Soft Tissue
Advanced abdominal surgery
Endocrine surgery
Oncologic surgery
Reconstructive surgery/skin grafting
Thoracic surgery
Wound management
Orthopedic
Cruciate ligament rupture
Patella luxation
Fracture repair
Hip dysplasia
Growth deformities

Pet Loss Support
We understand how difficult it is to say goodbye to a beloved pet. We're here to offer the compassionate support you may need to cope with the loss.
Our virtual pet loss support group is offered free of charge to the entire community and is facilitated by a member of our veterinary social work team.
Please email [email protected] for more information or if you're interested in joining our virtual support group.

Compassionate Treatment
Our team respects the close bond between pets and their owners and treats each with dignity, compassion and kindness.