Our services.
We focus exclusively on emergency treatment and advanced internal medicine specialty veterinary care. (For annual vaccines and wellness care, please see your primary care veterinarian.) In an emergency, call ahead to your BluePearl vet hospital in Scottsdale and let us know you're coming. No appointment is necessary for our emergency vet.
Learn how to identify a pet emergency.
Types of specialties & services.
Each BluePearl pet hospital is unique. Our Scottsdale hospital offers these specialties provided by skilled, compassionate and dedicated professionals.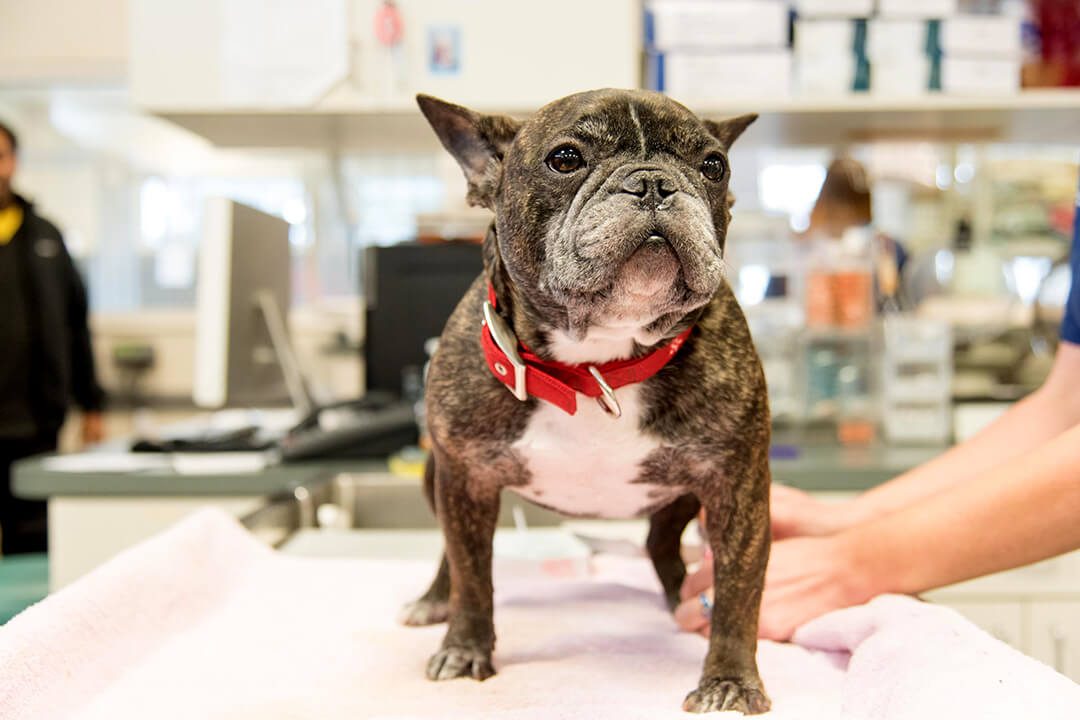 Emergency Medicine
If you believe your pet is sick, hurt or in distress, we're here to provide expert care. Our trained emergency clinicians are prepared to diagnose and treat urgent cases, including severely injured or critically ill pets. Common emergency cases we see include:
Animal attacks
Bleeding
Collapse episodes
Difficulty breathing
Difficulty urinating
Hit-by-car accidents
Ingestion of medications, poisons or objects
Seizure
Severe diarrhea
Unresponsiveness
Vomiting
Through every step of your pet's emergency care experience, we keep you and your pet's primary veterinarian informed and involved.

Diagnostic Imaging
Our radiology service performs many non-invasive and minimally invasive diagnostic procedures. These services allow the specialty clinicians unique, non-invasive opportunities for evaluating various diseases.

Internal Medicine
Veterinary internists are trained to take care of patients who can't tell them what's wrong. By using the pet's history, clinical signs, lab results, imaging studies and other testing, our internal medicine specialists can diagnose severe, chronic illnesses or symptoms that appear suddenly.

Interventional Radiology & Endoscopy
Interventional radiology (IR) is a specialized medical treatment that enables veterinarians to use a special camera to diagnose and potentially treat medical conditions from inside your pet.
How IR Works
Interventional radiology was developed for human patients who were not stable enough to have traditional surgery. In veterinary patients, interventional radiology procedures are gaining popularity as they offer solutions for pets with minimal discomfort, reduce hospital stays and often offer reduced aftercare for owners.
This video features a small dog with a collapsed trachea. Interventional radiology was used to place a stent, allowing him to breathe normally again.
Removing Obstructions in the Urinary Tract
One common type of interventional procedure involves relieving obstructions in the urinary tract. The blockage could be stones, a mass or anatomical abnormality. IR techniques can remove the blockages or create room for urine to move past them. IR can also be used to relieve obstructions in the respiratory or cardiovascular system.
"It's about solving problems," says Dr. Sara Ford, a veterinary specialist at BluePearl Scottsdale, who is board-certified in internal medicine. "Interventional radiology lets us creatively diagnose and treat many medical problems with minimal risk for the pet."
Treatment
IR procedures can be used to treat a number of conditions including tracheal collapse, kidney stones, ureteral obstruction, and bladder stones that traditionally would have required surgery. By entering the body through natural openings, such as the nasal passage or urethra or through a small incision, specialists can use small, mobile cameras and tools to address conditions within the body.
Because these procedures require a minimal incision, or no incision at all, your pet will suffer less discomfort, need fewer stitches, recover faster, and require a shorter hospital stay. In many cases, your pet won't even have to stay overnight.
When surgery is necessary, such as with a fracture, interventional radiology can still work as a complementary tool. A c-arm x-ray machine that uses fluoroscopy (video x-ray) can help the specialists monitor their progress during surgery and make adjustments as they are needed in real-time.
Diagnostic
Interventional radiology uses advanced imaging technology like these to identify causes of disease.
Ultrasound
Fluoroscopy
Endoscopy
CT (computed tomography)
These techniques allow specialists an almost complete visualization of your pet's body. Because the specialists can see detailed images of your pet, they can better diagnose conditions and create highly focused treatment plans.
Commonly performed interventional radiology and endoscopic procedures focus on the urinary tract (endourology), the respiratory tract and the cardiovascular system.
Issues Treatable with IR include:
Tracheal Collapse
Tracheal collapse is a serious medical condition that is common in small breed dogs (Yorkshire terriers, Pomeranians and poodles). Tracheal collapse occurs when a dog has an abnormality of their trachea (windpipe) that causes the airway to narrow as the patient breathes," says Dr Ford. "Even with medications, these dogs live with discomfort and can die if the tracheal collapse becomes so severe that the airway completely obstructs. These pets all have decreased quality of life at home. Placing a tracheal stent offers immediate improvement with limited risk of side effects to the patient."
Bladder Stones
Before interventional radiology techniques were available, bladder stones required invasive surgery. With surgery, the patient's abdomen and bladder would be cut open and the stones removed.
Interventional methods such as percutaneous cystolithotomy (or PCCL) have now improved this treatment. In this procedure, a camera is passed through a very small (2 mm) incision and stones are removed using a tiny, claw-type basket. The procedure allows for thorough visualization of the bladder and removal of all stones. Patients typically recover very quickly and many pets can go home the same day.
Kidney Stones
Kidney stones are painful and all too common for pets (just like humans). Even if the stones pass during urination, they can damage your pet's urinary system. Interventional radiology allows our specialists to find the stones and break them up using an innovative technology called laser lithotripsy. A laser passed through a scope is used to break stones into small pieces that can then be removed or passed.
Kidney Stones in Cats
Some cats develop blockage of the ureter (the tube connecting the kidney to the bladder) by stones. These stones may block urine flow, which causes pain and can eventually damage the kidney.
Other causes of ureteral blockage include accumulations of mucus or blood cells that may form due to kidney infections or other causes.
Interventional radiology can be used to relieve obstructions, re-establish urine flow, relieve pain, and prevent additional damage to the kidney.
Other Conditions Treatable with IR
Stenting to allow urine to pass a urinary tract obstruction
Stenting to allow air to pass by an airway obstruction
Laser removal of bladder tumors
Urethral collagen injections to remedy incontinence
Cardiologists use Interventional procedures to address many cardiovascular issues
High-Tech Solutions to Common Problems
Whether your pet is having urinary accidents all over the house, straining to urinate or gasping for breath, there are new, less invasive options out there. Interventional radiology offers highly effective solutions that simply weren't possible just a few years ago.
"There are so many options for minimally invasive procedures to help these animals," says Dr. Ford. "Being able to offer these procedures is good for both the pet and the owner."
If you're wondering if interventional radiology could provide an answer to your pet's problem, ask your vet for a referral to a BluePearl veterinary specialist.