Seeking a specialist's opinion.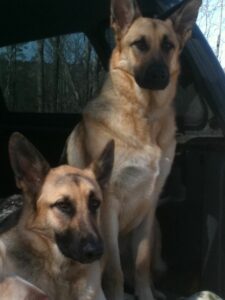 Our German shepherd, Quinn, was diagnosed with dilated cardiomyopathy in November 2019 and given heart meds, but by Christmas, he had lost about 20 pounds. Concerned, I took him to BluePearl Southfield, which is where the only cardiologist is located. We wanted to see her to determine if there was more we could do for him. Quinn took the trip down well but shortly after we arrived, he started to have changes in his breathing.
On arrival.
The tech immediately took him back with a doctor. While trying to take x-rays, they found he had fluids around the heart. They decided to drain the fluid to get better x-rays; however, there was blood in the fluid and his chest filled back up. The hospital team kept me totally in the loop and I was with him during most of the procedures. It was determined at this time that he was in more distress and pain and I made the difficult decision to let him go.
Saying goodbye.
The doctor and staff were wonderful to him and to me. I was with Quinn until his last breath. They were kind enough to prepare him for the drive back to northern Michigan. This is a first-class emergency hospital with remarkable doctors and staff. I know in the future if I am not sure of something with my dogs, I will drive the two hours to BluePearl for answers.