The Swallowed Squeaker That Led to an ER Trip
On December 9th, 2021, my nine-year-old shepherd mix ate a squeaker that he removed from a toy. Normally we can get these away from him by trading them for a treat, but not this time. I am a surgical vet tech, so I knew he needed immediate attention.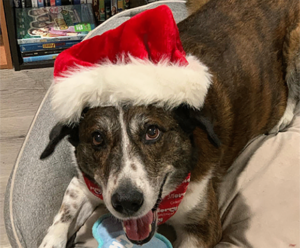 My son and I quickly loaded our dog into the car for a trip to BluePearl Pet Hospital in Fort Myers. The ER doctor, Dr. Heintz, administered IV apomorphine to induce vomiting in the hopes that the squeaker would be vomited back up, but it wasn't. They then took a radiograph to make sure he actually ate it (he did).
I brought him back the next morning for the surgeon, Dr. Ferrell, to scope it out. They had the squeaker in a few different grabbers, but it kept slipping out because it was extremely slippery, so my baby needed to go to surgery. Thankfully, the squeaker was in his stomach, so he only needed a gastrotomy. He spent the night and recovered well.
Over the next few days, it seemed that everything I have known and told people over my 30 years as a vet tech went out the window. My dog was nauseous and not eating and we were all worried there was something very wrong with him. Even after hours, the surgeon responded to my concerns and eased my worries.
Our dog is now fully recovered and back to normal. Thank you to Dr. Heintz, Dr. Ferrell and everyone else who assisted!