Tinsel has a weekend scare.
We had an emergency with one of our cats over the weekend and we were hoping that things would either get better or be able to wait until Monday so we could call our normal vet for an appointment. On Sunday morning we knew our cat, Tinsel (we call her Tinny), needed help and needed to be seen that day.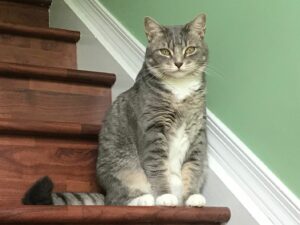 The staff at the Veterinary Specialty Center of Delaware were terrific – from our first panicked phone call until we checked out, we were treated wonderfully and with patience and respect. When we arrived, we were seen by a triage nurse who took vitals and got the history of our cat. She explained everything she was doing and was very caring and kind towards our furball.
An accurate diagnosis.
She explained that the doctor would be in afterwards and within 15 minutes the doctor arrived. She reviewed the situation and history of our cat's health and then based on what she had observed told us what she thought the issue might be. She explained that she needed to take our cat back to the exam room and told us everything that she was going to do. When she returned, she reviewed everything with us, and her diagnosis was spot on.
She told us she had some samples that she wanted to send out to a lab and gave us the choice of whether to do it. She explained the medication our cat would need for the next week including the dosage, instructions for administering it and answered all our questions. She explained that it would be awhile while she got the medication ordered and got us ready for checkout and told us in the meantime, we could let our cat out of the carrier to explore the room and relax.
The longest part of the visit was waiting for the medication and checkout, but our cat was so exhausted that she stayed in her carrier and slept so it didn't really matter.
A happy ending for Tinny (and her owner).
Checkout went smoothly and we felt the cost was much less than we were expecting it to be. I don't think that the prices here are outrageous – this is a full-service hospital with staff on hand to perform lab work, procedures and basically handle any emergency and they were open 24 hours over the weekend. I think the price was very reasonable and I was happy that we took our cat there and trusted them with her care.
I would recommend this center to anyone needing emergency care for their pet – they were wonderful to deal with. I can't thank them enough.