A second opinion offers hope.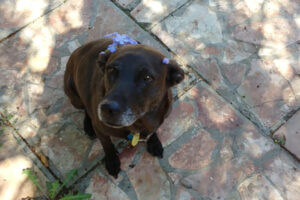 Our 9-year-old, black lab mix, Mia was diagnosed with a large tumor on her liver. After we learned this diagnosis is potentially life-ending, we decided to get a second opinion from BluePearl! I wasted no time in calling BluePearl as soon as I got home from our vet to make an appointment.
Finding options at BluePearl Stone Oak.
Mia was able to be seen the next afternoon. After reviewing her history and performing tests, the oncologist, Dr. Menard said initially her first response is to agree with our vet's findings, and not giving up hope, she first wanted to discuss with BluePearl's surgeons to get their take on Mia's condition. We left with hope in our hearts that there was still a chance being considered for our girl.
The next morning, we received an elated phone call from Dr. Menard. After speaking with five different surgeons, she said not one of them took a breath before exclaiming – Operate!
In the operating room.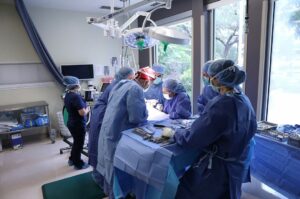 Mia was scheduled for her surgery two days later with the incredible surgeon, Dr. Sarah Israel, who was able to excise the entire tumor intact. Dr. Israel said that the most concerning area which was a dark spot on the liver was biopsied and that we would know the results of further treatment in a few days.
In keeping with Mia's continuing luck…that proved benign as well! And any further treatment was not deemed necessary. We went from possibly saying goodbye to our girl to spending the last two years loving on her, with many more in her future.
In short, nothing can ever truly express the gratitude we feel, but our family wants to thank those wonderful individuals (doctors, nurses, and staff) for doing what they do best and going the extra mile to save our dog. Mia still chases squirrels and sunbathes in the backyard and living a very, very, very happy life!