Angels from Above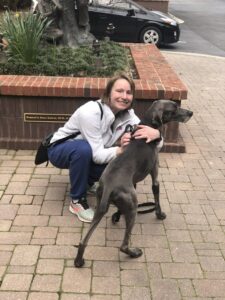 The staff at BluePearl Sandy Springs are truly amazing and angels from above. After being referred by another animal hospital, BluePearl welcomed us at the early hour of 4 AM.
As soon as we walked in, they were ready for us and immediately took my sick dog back to stabilize her. While the diagnosis of severe heart failure is not what we hoped for, I knew my sweet Weimaraner, Juliet, was in the best care.
An Unexpected Diagnosis
BluePearl went to every effort to make sure Juliet was safe, comfortable, and appropriately treated. It was so hard to believe that a dog who showed no symptoms and easily and eagerly walked 3 miles a few days before had severe heart failure.
Dr. Whitley and Dr. Laughlin treated Juliet during her stay at BluePearl, taking their time to carefully explain Juliet's diagnosis, explaining treatment options and plans, updating my husband and I on her progress multiple times per day, and answering the lengthy list of questions I had. They were able to stabilize and treat Juliet so well that she was able to return home two days later.
A Little More Time
While it is hard to think that the time my husband and I have left with Juliet is limited, we do have comfort in knowing that Juliet has the best doctors to keep her as comfortable and as healthy as possible during the rest of her life.
Dr. Whitley and Dr. Laughlin gave us the best gift possible – a little more time with my sweet Juliet. For that, my husband and I, as well as our other pets, are so very grateful. Thank you!