How I came to BluePearl
Aloha to Danielle M. Lang, DVM and her staff on August 19 2020!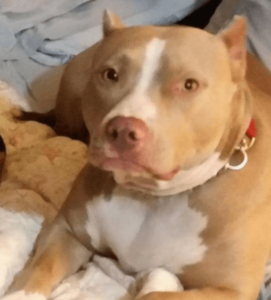 I want others to know who you are but first, I'll catch everyone up on my story. My dog, Lilikoi, was diagnosed with leukemia. I started taking her for chemotherapy but I hated it. I either met a tech at my car or talked to the vet on phone and always felt disconnected. I never felt that there was any love or care for my baby Lilikoi.
Three weeks later, I took her back to her oncologist to find out what was happening to her mouth. They wanted to keep her overnight to hydrate her. After giving her a bag of fluids, they charged me $350.
Grateful for the team at BluePearl
Twelve hours later, I went to BluePearl Pet Hospital in Tampa because she was dying. I called around and they were the only hospital that would let me be with my baby Lilikoi. Danielle M. Lang, DVM, was the veterinarian that night. She showed so much compassion, kindness and empathy. She went above and beyond for my baby Lilikoi.
Dr. Lang came out and talked to me, let me spend as much time as I needed and answered all of my questions. My baby Lilikoi was her only concern! God bless you Dr. Lang! The animal world needs more people like you! I am very grateful to have met you.