Animal Referral Center Green Bay – serving the Green Bay area in Wisconsin 24/7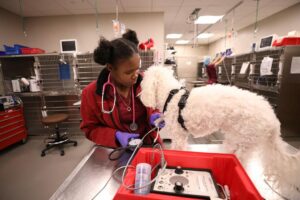 Our 24 hour pet hospital is located in Green Bay, Wisconsin just off Highway 172. We are open all day, every day to provide the care your pet needs. 
Specialty and emergency medicine in Green Bay, WI
When you have a pet emergency, seconds count. We want you to know, we're ready. If your pet has a condition that requires a specialist's expertise, we're ready for that too. Our experienced veterinarians, vet technicians and support staff work closely together to provide the comprehensive, compassionate care your pet needs and deserves.
Specialty Care: Our veterinary specialists work directly with your primary care vet to understand your pet's medical history and develop a customized treatment plan based on their unique needs. Visits to our specialists are usually by referral from your primary care vet and by appointment. Learn more about veterinary specialists.
About Animal Referral Center Green Bay
At our pet hospital in Green Bay, we are dedicated to providing the best possible care for your pet. In addition to being prepared for an emergency around-the-clock, we're ready to handle complex surgeries that demand the know-how of a board-certified specialist.
You can find these services and specialties at our hospital:
For more information about Animal Referral Center in Green Bay, WI, visit our website.