Our hospital is open for both specialty and emergency patients and we're taking precautions to continue providing remarkable care for your pets. 
Masks must be worn at all times inside the hospital.
Client are welcome to enter the hospital upon arrival.
Thank you for your cooperation and understanding.
---
BluePearl Pet Hospital – serving Langhorne
BluePearl Specialty + Emergency Pet Hospital (formerly CARES Vet) is located in Langhorne, PA. We provide emergency and specialty care for pets in the communities of Philadelphia, Levittown and Doylestown. We're conveniently located northwest of Levittown by the intersection of I-295 and Route 1.
Emergency and Specialty Medicine in Langhorne, PA
If your pet is sick or injured, we're here to provide advanced care. BluePearl is home to a team of emergency and specialty veterinarians who are trained to treat even the most complex conditions and injuries in pets.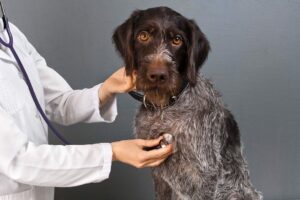 We believe pets come first. Your pet's comfort, quality of life and quick return to health are our top priorities – and we truly value the human-animal bond you share with your pet. You can look to the BluePearl veterinary team to provide compassionate care, and treat your pets as if they are our own family pets. We understand the importance of open and thorough communication, and we keep you and your primary veterinarian informed through every step of your pet's care.
We're an extension of your primary care veterinarian's practice. When your primary veterinarian's office is closed, or if your pet needs urgent or specialized care, we serve as a partner in providing the highest level of quality care for your pet's specific medical needs. We're always here for you and your pet when you need us.
Emergency: When your pet needs emergency care, we take action. Led by board-certified critical care specialists and skilled emergency veterinarians, our ER team is trained to diagnose and treat nearly any illness or condition in pets.
If you're facing a pet emergency, call ahead and let us know you're coming. There is no appointment necessary for your ER visit. Learn more about your emergency visit.
Specialty: Your primary veterinarian may refer you to BluePearl to pursue specialized care for your pet's medical condition. We offer comprehensive specialty services to offer specific, detailed care in many areas of veterinary medicine. You can find these services and specialties at our hospital:
Cardiology – provided by TriVet Cardiology
Patient Experience Guide
Compassion and empathy are top priorities when your pet is in our care. Download our CARES Patient Experience Guide to learn what to expect when your pet is treated in our hospital.
Download Form
Procedure Drop-Off Form
Download our drop-off form for neurology, surgery, internal medicine and ophthalmology procedures.
Download Form