COVID-19 Protocols:
The hospital is currently following any local COVID-19 mandates. If you have questions, please feel free to give us a call.
---
BluePearl Pet Hospital – Serving Philadelphia and Delaware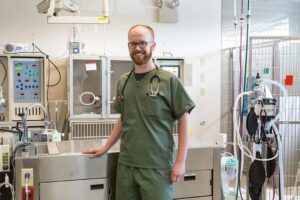 Our 24-hour pet hospital is located in Levittown in Bucks County and serves greater Philadelphia, the Delaware Valley, Trenton and nearby communities.
Specialty and Emergency Medicine in Levittown, PA
When you have a pet emergency, seconds count. We want you to know, our 24-hour vets are ready. If your pet has a condition that requires a specialist's expertise, we're ready for that too. Our veterinarians, vet technicians and support staff work closely together to provide the comprehensive, compassionate care your pet needs and deserves.
Emergency: In an emergency, call ahead to your BluePearl vet and let us know you're coming. No appointment is necessary for our emergency vet. Learn more about your emergency visit.
Specialty Care: Our veterinary specialists work directly with your primary care vet to understand your pet's condition and develop the appropriate treatment plan. Visits to our specialists are usually by referral from your primary care vet and by appointment. Learn more about veterinary specialists.
About BluePearl Pet Hospital Levittown
Our Levittown hospital opened in 2011 and features a CT scanner, MRI machine, an intensive care unit, a linear accelerator for radiation therapy, separate canine and feline wards and more. We also offer radioiodine I-131 treatment for cats with hyperthyroidism.
We frequently share our medical expertise by inviting primary care veterinarians to educational events at our hospital.
BluePearl Levittown has been named a National Trauma Center, which puts it in an elite group of veterinary hospitals. And in 2017, our Levittown location was named "Practice of the Year" in a nationwide competition.