Specialty Vet Medicine in Langhorne, PA

When your pet requires specialty care, you can trust the team at BluePearl Pet Hospital in Langhorne to provide medically-advanced care and determine the best course of action for your pet's specific condition.
Our specialty veterinary team members have the experience and expertise to diagnose and treat pets who suffer from challenging illnesses or serious injuries. In collaboration with your pet's primary veterinarian, we develop a custom treatment plan, including advanced diagnostics, for your pet's ongoing health and quality of life.
In addition to emergency medicine and critical care, we proudly offer the following veterinary specialties and services at BluePearl Pet Hospital in Langhorne:
Anesthesiology & Pain Management
Our anesthesiology and pain management service works with other specialties in the hospital to provide safe and comfortable sedation and anesthesia for pets during diagnostic and surgical procedures. Using sophisticated tools to monitor your pet under anesthesia, our experts utilize advanced techniques to control pain.
Cardiology – provided by TriVet Cardiology
Diagnostic Imaging
Our radiology service performs many non-invasive and minimally invasive diagnostic procedures. These services allow the specialty clinicians unique, non-invasive opportunities for evaluating various diseases.
The advanced diagnostic imaging equipment at our hospital includes:
X-rays
CT scanner
MRI
Ultrasound
And more
Internal Medicine
Veterinary internists are trained to take care of patients who can't tell them what's wrong. By using the pet's history, clinical signs, lab results, imaging studies and other testing, our internal medicine specialists can diagnose severe, chronic illnesses or symptoms that appear suddenly.
Neurology
Our neurology team uses advanced imaging technologies, cutting-edge medical therapies and surgical procedures to diagnose and treat patients with neurological disorders that affect the brain, spinal cord and nerves.
Some of the most common neurological disorders we see include: 
Epilepsy and other seizure disorders
Brain and spinal cord trauma
Disc herniation and other lumbosacral disorders
Brain tumors
Neuromuscular disease
Encephalitis
Oncology
Our compassionate oncology team offers a variety of treatment options for pets with cancer. From initial diagnosis to ongoing care, we are focused on promoting your pet's quality of life.
We take an integrative approach to treating cancer that includes:
Taking time to listen to and answer all questions and concerns about cancer treatment
Creating a treatment plan tailored to each patient and client's individual needs
Working within client's schedules for therapy delivery
Maintaining regular updates with referring family veterinarians
By helping every pet owner understand their pet's disease and by providing appropriate educational tools, we all work together to improve and extend each pet's quality of life.
Spotlight on veterinary oncology: Learn about the advanced medicine and diagnostic tools our oncology team uses to treat pet cancer, including sarcoma, lymphoma, mast cell tumors and more.
Ophthalmology
For pets experiencing eye problems, our clinically advanced ophthalmology team is trained to diagnose and treat a variety of ocular conditions using surgical and non-invasive techniques.
Spotlight on veterinary ophthalmology: Learn about the cutting-edge veterinary medicine our ophthalmology team uses to treat pet eye diseases like cataracts and glaucoma and meet our ophthalmologist, Dr. Martha Low.
Surgery
When your pet needs surgery, our veterinary surgery team is ready to provide the best possible care. Our hospital is equipped with advanced tools, technology and monitoring capabilities to provide sophisticated medical care and compassionate service during your pet's time of need.
Surgery may be the best option for pets with:
Cancer
Chronic diseases like ear or respiratory tract infections
Congenital conditions like dysplasia or heart defects
Hernias
Trauma or injuries, including fractures, ligament and tendon injuries
Our Facility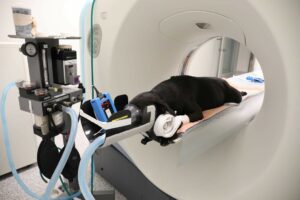 BluePearl Pet Hospital is home to advanced technology specifically designed to diagnose, treat and provide comfort for ill or injured pets. Our state-of-the-art facility is equipped with all the tools necessary to provide urgent, comprehensive care, including:
Intensive care units (ICU): with the highest level of monitoring and management
In-house laboratory: for timely results and on-site analysis
Surgical suite: with a dedicate surgical team and advanced monitoring
Over 30,000 square feet: featuring exam rooms, surgical suites, radiology suites, a sunlit feline ward, anesthesia recovery space and more