Specialty veterinary medicine in Malvern, PA.
BluePearl Pet Hospital offers a variety of specialty pet health services in the Malvern, PA area. Available for emergencies and referral appointments from primary veterinarians, we're home to expert clinicians in many disciplines of veterinary medicine. Learn more about each of our specialties and services: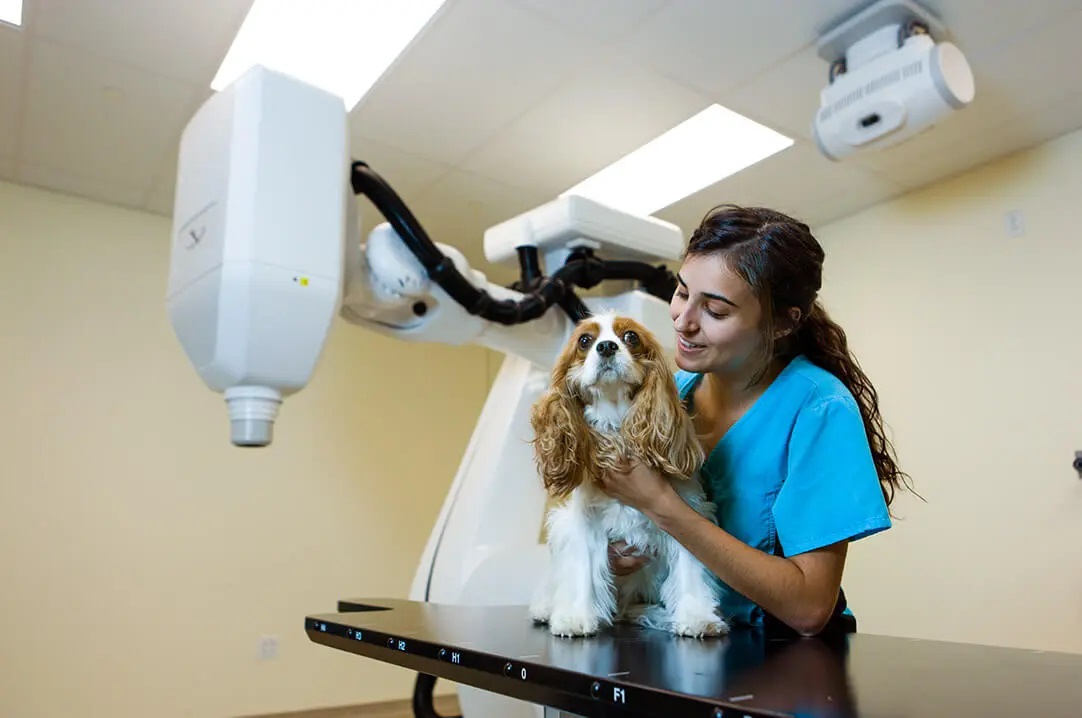 Emergency Medicine
You know your pet better than anyone, and if you believe he or she is sick, hurt or in distress – we're here to provide expert care. Our trained emergency clinicians are prepared to diagnose and treat all types of urgent cases, including severely injured or critically ill pets. Common emergency cases we see include:
Animal attacks
Bleeding
Collapse episodes
Difficulty breathing
Difficulty urinating
Hit-by-car accidents
Ingestion of medications, poisons or objects
Seizure
Severe diarrhea
Unresponsiveness
Vomiting
Through every step of your pet's emergency care experience, we keep you and your pet's primary veterinarian informed and involved. Your pet's primary veterinarian will receive detailed daily emails and faxes, and he or she has 24/7 online access to your pet's records and diagnostic test results.

Acupuncture
Available Mondays by appointment
As a service offered by BluePearl, veterinary acupuncture involves the insertion of extremely thin needles through your pet's skin at strategic points to stimulate nerves, muscles and connective tissues. This stimulation appears to boost the body's natural regulatory activity to help relieve pain, nausea, anxiety and inflammation that may accompany many diseases and the conventional therapies used to treat them.
Acupuncture is not painful, and most patients fall asleep during treatment. Research supports the use of acupuncture for various medical conditions including:
Post-surgical pain
Arthritis
Gastrointestinal (GI) disorders – including symptoms of nausea, vomiting, diarrhea and poor appetite
Cancer support
Neurological disorders – including limb weakness, back pain and seizures
Behavioral disorders – including thunderstorm anxiety
General support for aging patients – including the kidney, heart and immune system

Anesthesiology & Pain Management
Our anesthesiology & pain management service works with all other specialty departments to provide safe and comfortable sedation and anesthesia for pets during diagnostic and surgical procedures. Led by a board-certified veterinary anesthesiologist, our anesthesiology & pain management team uses sophisticated tools to monitor your pet under anesthesia, including:
Capnography
Electrocardiography
Pulse oximetry
Direct and indirect arterial blood pressure
Our team is also trained in advanced techniques to control pain, including:
Local blocks
Spinal and epidural anesthesia
Specific nerve blocks
Continuous drug infusions
Catheter-delivered local anesthetics
We also provide advanced ventilation and airway management for patients that are difficult to anesthetize or that are undergoing advanced surgical and diagnostic procedures.
In addition to overseeing daily anesthesia services at our facility, our anesthesiology & pain management team is also available for consultation for cases involving complicated anesthetics or complex pain management.

Critical Care
Working in our Intensive Care Unit (ICU), our critical care team is dedicated to the treatment of the most critically ill and injured pets we care for at BluePearl Pet Hospital. The critical care team consists of highly trained board-certified veterinary criticalists, critical care and emergency clinicians and technicians with a special interest in critical care.
Our ICU is specifically designed to deliver the highest level of care for pets in critical condition. The ICU is always staffed with skillful clinicians and technicians and it features advanced monitoring tools and life-saving equipment. Located centrally within our hospital, the ICU is lined with comfortable kennels for pets of all sizes, including large, spacious runs for bigger dogs.
Our ICU is prepared to handle the most urgent, complex cases. The following is a brief list of some of the services provided and techniques used in the ICU:
Advanced invasive intravenous catheter placement, including triple lumens, peripherally inserted central catheters and arterial catheters
Arterial and central venous blood pressure monitoring
Colloid osmotic pressure measurement and blood gas analysis
Esophageal, nasogastric and nasojejunal tube feedings
Oxygen therapy via dedicated oxygen cages equipped with air conditioning, heat and relative humidity controls

Dentistry
Available on Wednesdays for appointments
Available on Thursdays and Fridays for surgical procedures

Dermatology
Available Monday through Friday by appointment
When your pet is itching or experiencing problems with the skin, we're here to help. Our veterinary dermatology team has the knowledge and expertise to diagnose, manage and treat common and complex skin conditions in pets. We work closely with your pet's primary veterinarian to create comprehensive care plans for the long-term management of skin complications. Common conditions we diagnose and treat include:
Allergies (both environmental and food-related)
Acute and chronic disease of the skin and ears
Autoimmune diseases
Neoplastic disease
Endocrine disorders
Parasitic skin diseases (like mange)
Fungal infections (like ringworm)
We also offer advanced dermatological services including video otoscopy, deep ear cleaning under general anesthesia, intradermal allergy testing, allergen-specific immunotherapy and skin biopsies. If your pet has been prescribed an allergy vaccination, watch our video for tips on administration and storage.

Diagnostic Imaging
BluePearl Pet Hospital conveniently offers many diagnostic imaging services using advanced equipment. Our board-certified radiologists are available to review diagnostic images and provide a precise diagnosis in a timely fashion. We have many techniques available to magnify and optimize clarity of images to pinpoint your pet's specific condition.
Our veterinary radiology team practices thorough communication with your pet's primary veterinarian and our other specialty departments. The high-quality images that are a result of our advanced technology allows other veterinarians to view images from home and provide a phone consultation with in-hospital personnel if necessary.
Diagnostic imaging technology at BluePearl Pet Hospital includes:
Radiographs (x-rays)
GE 16-slice CT 4-dimensional scanner
GE 1.5 Tesla MRI
Ultrasound

Internal Medicine
Veterinary internists are trained to take care of patients who can't tell them what's wrong. By using the pet's history, clinical signs, lab results, imaging studies and other testing, our internal medicine team can diagnose severe, chronic illnesses or symptoms that appear suddenly.

Oncology
Led by board-certified specialists, the oncology department at BluePearl Pet Hospital in Malvern has excelled in providing top-notch quality care for cancer patients. We understand the challenges both you and your pet may face following a cancer diagnosis, and it's our priority to provide the very best experience possible.
It's our team philosophy that cancer treatment in pets is aimed at helping slow the growth and progression of cancer while supporting and improving quality of life. By focusing on quality of life, we strive to minimize the risk and severity of side effects during cancer treatment. Many patients come to us feeling sick from their cancer, once we start treatment, they start to feel better and can get back to their normal routine with their pet parents.
We offer many treatment options depending on the cancer diagnosis, including chemotherapy, immunotherapy, surgery, radiation, integrative oncology (acupuncture) and palliative/hospice services. We collaborate with both you and your pet's primary veterinarian, as well as other in-house departments such as surgery and diagnostic imaging, to develop your pet's treatment plan.
Our service places a strong emphasis on continuing education and offers numerous clinical trials so that we may provide the most up-to-date and advanced diagnostic and treatment options for our patients.
To help reduce stress on the patient, we became certified in low-stress handling techniques through CALM, the University of Pennsylvania's Behavior Department.

Ophthalmology
For pets experiencing eye problems, our ophthalmology team is trained to diagnose and treat a variety of ocular conditions using surgical and non-invasive techniques. Your primary veterinarian may refer you to our ophthalmology service if your pet is experiencing problems like:
Cataracts
Cornea injuries
Retinal disease
Dry eye
Eyelid and eyelash injuries or abnormalities
Glaucoma
Inflammation and conjunctivitis
Third eyelid, or cherry eye

Radiation Oncology
Radiation therapy and CyberKnife treatments are available Monday through Friday at the BluePearl Veterinary CyberKnife Cancer Center. Appointments can be made by calling 844.738.2927.
If your pet has been diagnosed with cancer, there are various treatment options available to improve quality of life. Depending on your pet's specific condition, one option is radiation therapy, which involves the use of high-energy beams of radiation directed at tumors.
Radiation therapy is used to treat solid cancers in the body, such as tumors of the skin, nose, brain, mouth, bones and gastrointestinal (GI) system. Some cancer treatments are aggressive, while other treatments may be more palliative in nature and seek to control symptoms associated with a tumor and improve quality of life. The type of radiation therapy prescribed for your pet will ultimately depend on the type of tumor and location within the body as well as your goals for treatment.
BluePearl Pet Hospital offers conventional radiation therapy, as well as more advanced forms of radiation including intensity modulated radiation therapy (IMRT) and stereotactic radiosurgery (SRS), also known as stereotactic radiation therapy (SRT):
IMRT
IMRT is a new technology that delivers radiation more precisely to the tumor while relatively sparing the surrounding normal tissues. IMRT essential "paints" doses of radiation to your pet's tumor. By delivering radiation with greater precision, IMRT has been shown to minimize acute treatment-related side effects.
IMRT protocols are fractioned, which means the total dose is divided into multiple treatments. The number of treatments can vary from four up to 20. These treatments may be administered daily or once weekly for up to four weeks.
SRT
SRT is a non-invasive way to deliver radiation to tumors with submillimeter accuracy, allowing for maximum precision. BluePearl Pet Hospital uses a stereotactic radiation unit known as CyberKnife, which features a robotic arm to deliver the entire therapeutic dose to a pet in one to three treatments.
SRT allows for treatment delivery in a shorter amount of time, and it can also decrease side effects to an almost unrecognizable level. By providing precise treatment in fewer visits, a better quality of life for our clients and patients is achievable.
Both IMRT and SRT therapies are delivered by our radiation oncology team. We use advanced, highly precise diagnostic imaging technology to understand your pet's specific cancer and develop a treatment plan. After radiation therapy is over, we work with you and your pet's primary veterinarian for ongoing care.

Surgery
Available during ER hours for emergency and critical care surgeries
Appointments are required for all other services (please call our hospital to schedule an appointment)
If your pet needs surgery, we are here to provide the best care possible. At BluePearl Pet Hospital, our surgeons and technicians work as a team with you, your pet's veterinarian and our other specialty teams to provide the highest level of compassionate care.
From diagnostic imaging technology to sophisticated surgical tools, our facility is equipped to provide advanced surgical care through every step of the process. Led by board-certified surgeons, our surgical team has extensive experience and expertise in performing a variety of common and complex operations. We take pride in knowing our surgeons are up-to-date on the most current information and techniques.
Available during ER hours for emergency and critical care surgeries, or by appointment for all other departments, our surgery department performs emergency, neurologic, soft tissue, orthopedic and other procedures.