Veterinary Specialties & Services
At BluePearl Specialty + Emergency Pet Hospital in Northeast Portland, our skilled, compassionate and dedicated professionals focus exclusively on emergency treatment for pets and advanced specialty veterinary care. (For annual vaccines and wellness care, please see your primary care veterinarian.)
Between our emergency and critical care services and our specialties, our team utilizes a variety of advanced diagnostics to identify the cause of patients' problems, including:
Digital radiology
CT scans
Ultrasounds
Contrast radiology studies
In-Home Hospice Services
The goal of pet hospice is to help senior or terminally ill pets live the fullest life possible for the time that remains. If your pet has been diagnosed with a painful or life-limiting condition, they may be referred to a hospice veterinarian for:
In-home senior care
Pain and symptom management
Hospice and palliative care
Quality of life consultations
End-of-life services
Our compassionate, in-home services are provided by BluePearl Pet Hospice. Please call or text 800.717.5054 to talk to our care team, or schedule an appointment online.
Internal Medicine
Veterinary internists are trained to take care of patients who can't tell them what's wrong. By using the pet's history, clinical signs, lab results, imaging studies and other testing, our internal medicine team can diagnose severe, chronic illnesses or symptoms that appear suddenly.
Ophthalmology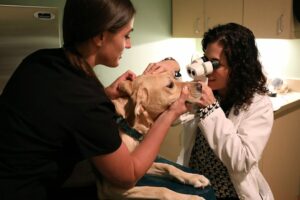 For pets experiencing eye problems, our knowledgeable, highly skilled veterinary ophthalmology team can diagnose and treat a variety of ocular conditions using surgical and non-invasive techniques. Your primary veterinarian may refer you to our ophthalmology service if your pet has an eye-related problem like:
Cataracts
Cornea injuries and diseases
Retinal disease
Eye area tumors, cysts and abscesses
Uveitis
Lens injuries and luxation
Dry eye
Eyelid and eyelash injuries or abnormalities
Glaucoma
Inflammation and conjunctivitis
Third eyelid, or cherry eye
Facial nerve paralysis
Our advanced ophthalmology team also helps patients when it comes to managing ocular side effects of health conditions like:
Diabetes
Hyperadrenocorticism
Infectious diseases like feline herpes virus
Systemic hypertension
Lymphoma
And more
Surgery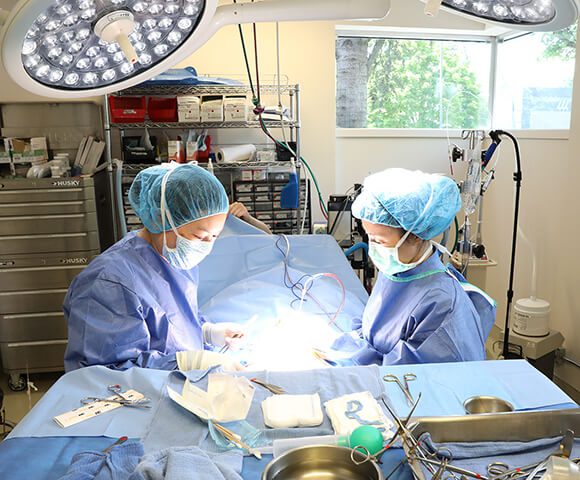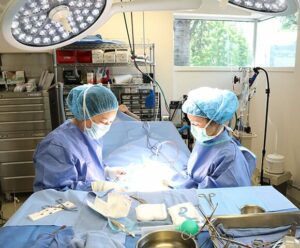 When your pet needs surgery, our veterinary surgery team is ready to provide the best possible care. Our hospital is equipped with advanced tools, technology and monitoring capabilities to provide sophisticated medical care and compassionate service during your pet's time of need. 
Surgery may be the best option for pets with: 
Cancer 
Chronic diseases like ear or respiratory tract infections 
Congenital conditions like dysplasia or heart defects 
Hernias 
Trauma or injuries, including fractures, ligament and tendon injuries 
The surgery team at BluePearl in Northeast Portland is highly skilled in a wide variety of surgical procedures, including those that use minimally invasive techniques. We work with patients who need surgical care for:
Gastric dilation volvulus (GDV/bloat)
Elongated soft palates
Reconstruction
Heart and lung conditions
Disc herniations
Hip dysplasia
Fractures
Cranial cruciate ligament ruptures
Laryngeal paralysis
Patellar luxation
Bladder stones
Foreign body consumption
Intestinal disorders
Our advanced surgery service also offers:
Orthopedic radiograph evaluation
Orthopedic growth abnormality correction
Wound management
Osteoarthritis management
Surgical management of cancer
Arthroscopic evaluation of joints
Compassionate Care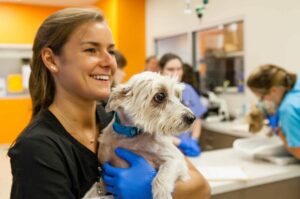 Our team is passionate about respecting the unique bond between owners and their pets. Therefore, we treat all with dignity, compassion and kindness. We strive to offer a warm, welcoming, judgment-free environment where owners can feel confident their pets are receiving the most advanced medical care from a team that goes the extra mile to ensure a pet is cared for as if they were our own.