SVS BluePearl COVID-19 Response
To our valued patients and clients:
As our state's understanding and response to COVID-19 (novel coronavirus) continues to develop, one thing remains the same: at SVS BluePearl, the health, safety, and well-being of our patients, clients, dedicated team, and community is our number one priority.
Our 24/7 Emergency Services are still available to all animals in need. With these emergency cases, we are asking that clients call ahead so that we can coordinate an alternative check-in plan for your pet.
Surgery Service:
In accordance with the Nevada veterinary board and guidelines from ACVS (American college of Veterinary Surgeons)
All non-essential surgery procedures are postponed for the next 2-4 weeks to conserve medical supplies for life-saving procedures. We are defining a "non-essential surgery or procedure" as one that can be delayed without undue risk to the current or future health of a patient. We are using the following criteria to determine the urgency and severity of prospective cases:
Threat to the patient's life if surgery or procedure is not performed.
Threat of permanent dysfunction of an extremity or organ system, including teeth and jaws
Risk of metastasis or progression of staging for known malignant cancer.
---
Sierra Veterinary Specialists & Emergency Center – serving Reno 24/7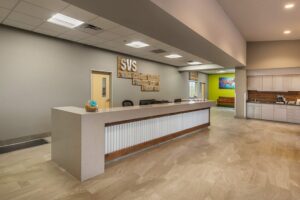 Our 24 hour pet hospital serves clients throughout Northern Nevada, including Carson City, Lake Tahoe, and Reno. Located close to both I-580 and I-80 and open all day, every day, we are here to take care of your pet when you need us most.
Specialty and emergency medicine in Reno, NV
When you have a pet emergency, seconds count. We want you to know, we're ready. If your pet has a condition that requires a specialist's expertise, we're ready for that too. Our experienced veterinarians, vet technicians and support staff work closely together to provide the comprehensive, compassionate care your pet needs and deserves.
Emergency: In an emergency, call ahead to your BluePearl vet and let us know you're coming. No appointment is necessary for our emergency vet. Learn more about your emergency visit.
Specialty Care: Our veterinary specialists work directly with your primary care vet to understand your pet's condition and develop the appropriate treatment plan. Visits to our specialists are usually by referral from your primary care vet and by appointment. Learn more about veterinary specialists.
About Sierra Veterinary Specialists & Emergency Center – Reno
Our pet hospital is spacious to better accommodate your pet in comfort and is equipped with the latest tools of our trade so that our experts can treat the range of specialty cases they see on a regular basis.
From minimally invasive laser therapy to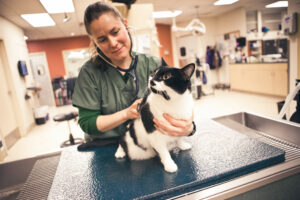 advanced dental services, we make sure that we are using the most advanced technology to provide your pet with the care they need and deserve.
Whether you have been referred to us by your primary veterinarian for a specialty case, or your pet needs immediate attention, we're here to provide expert care when your pet's health is on the line.
To learn more about our hospital, visit our website.