Emergency and Specialty Vet Services in Reno, NV
At BluePearl Pet Hospital, we take a collaborative approach to veterinary medicine. We partner closely with your pet's primary veterinarian to understand your pet's history and create a comprehensive care plan. We also communicate closely with you and provide the education you need to make an informed decision for your pet.
Our specialty and emergency pet hospital features many services under one roof, so we offer cross-departmental care for pets who can benefit from the expertise of multiple specialty clinicians. Learn more about our advanced specialty services:
Emergency Medicine
Our dedicated emergency clinicians are always available to deliver the highest quality medicine for pets with urgent medical needs. Our emergency vet clinic is equipped with advanced diagnostic imaging tools and sophisticated technology to provide top-notch care for your pet when seconds count.
Cardiology
Led by a board-certified veterinary cardiologist, our cardiology service provides compassionate care for pets with conditions affecting the heart and circulatory system. Our approach to cardiology focuses on quality of life as a top priority.
Diagnostic Imaging
Our radiology service performs many non-invasive and minimally invasive diagnostic procedures such as radiography, ultrasound, MRI and CT scans. These services allow our clinicians unique, non-invasive opportunities for evaluating various diseases.
Internal Medicine
Veterinary internists are trained to take care of patients who can't tell them what's wrong. By using the pet's history, clinical signs, lab results, imaging studies and other testing, our internal medicine team can diagnose severe, chronic illnesses or symptoms that appear suddenly.
Interventional Radiology
Interventional radiology (IR) is a form of advanced imaging that allows our doctors to perform minimally invasive procedures while viewing the moving parts in a pet's body in real-time.
Rehabilitation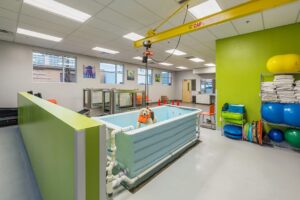 Our canine and feline rehabilitation process begins with a detailed consultation and thorough evaluation. Based on your pet's unique needs, we create a treatment plan that may include in-clinic treatments and at-home exercises.
We offer a variety of rehabilitation services, including:
Cryotherapy
Thermotherapy
Hydrotherapy
Exercises
Massage
Laser therapy
Ultrasound
Electrical stimulation
The goals of veterinary rehabilitation include pain management, faster recovery from injury or surgery, improved quality of life, restored mobility and more. We provide rehabilitation services for all types of patients, including:
Post-surgical
Pre-surgical
Hip dysplasia
Arthritis
Neurologic
Overweight
Degenerative myelopathy
Geriatric animals
Sporting dogs
Animals in need of adaptive equipment
Rehabilitation Video and Exercise Programs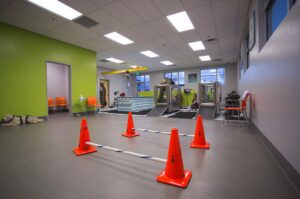 Canine Exercise Solutions is a worldwide company that partners with hundreds of facilities in several countries.
With this service, our clients can view their custom programs on paper, computers, devices such as iPads (or any tablets), and smartphones.
Surgery
Operating in an advanced surgical suite, our veterinary surgery team performs procedures on pets with the goals of improving quality of life. We perform a wide variety of veterinary surgeries, including:
Soft tissue
Oncologic
Neurosurgery
Orthopedic
Minimally invasive
Our surgery clinicians have years of training and experience in their field. They stay current on the latest techniques and tools to offer the highest level of surgical care for your pet.