One of the Scariest Words a Doctor Can Say
A Diagnosis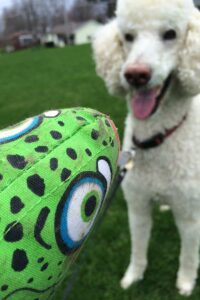 Our 12 1/2 year old standard poodle, Mike, was diagnosed with an anal gland tumor. Thus began our third trip to PVSEC. Our first two trips involved a cyst removal on the paw and a splenectomy – both benign. We didn't hesitate. We wanted the best care. A two-hour trip was no inconvenience; please God…get us an appointment. We were lucky to get a call for a cancelation.
An Immediate Connection
We barely arrived in the waiting room when Cassie (CVT) came through the door with her warm, caring manner, reassurances, humor and doggie kisses. My mind is yelling, "Cassie, please stay with us. Our dog already has a relationship with you." The big next? Dr. Julie Compton, Mike's surgeon is on the floor…literally…with Mike. Dog and doctor…an immediate connection. Examining, soothing, putting us at ease. Yet, what professionalism! A straight, no-nonsense explanation of what can be and what is to come. All questions and concerns answered. No rush. No pressure. Her demeanor and confidence brings hope.
The Procedure
The surgery was a long one with the complexity far beyond our comprehension. Yes – it was a malignant anal gland tumor. There was no doubt…the surgery was executed with exceptional skill and tons of love. We look forward to follow-ups with out team. There are no guarantees, but we know that these incredible individuals give more that just 100 percent. We can't thank them enough!