COVID-19 Protocols:
The hospital is currently following any local COVID-19 mandates. If you have questions, please feel free to give us a call.
---
PVSEC Pet Hospital – Serving Greater Pittsburgh and Surrounding Communities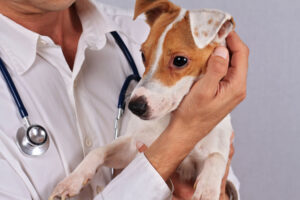 Our 24-hour emergency and specialty pet hospital is open 24/7 and is the most comprehensive specialty veterinary hospital in western Pennsylvania.
Specialty and Emergency Medicine in North Hills, Pittsburgh
When you have a pet emergency, seconds count. We want you to know, the Pittsburgh Veterinary Specialty & Emergency Center is ready. If your pet has a condition that requires a specialist's expertise, we're ready for that too. Our veterinarians, vet technicians and support staff work closely together to provide the comprehensive, compassionate care your pet needs and deserves.
Emergency: In an emergency, call ahead to your PVSEC vet and let us know you're coming. No appointment is necessary for our emergency vet. Learn more about your emergency visit.
Specialty Care: Our veterinary specialists work directly with your primary care vet to understand your pet's condition and develop the appropriate treatment plan. Visits to our specialists are usually by referral from your primary care vet and by appointment. Learn more about veterinary specialists.
About Pittsburgh Veterinary Specialty & Emergency Center – North Hills, PA
The largest and most comprehensive specialty veterinary hospital in western Pennsylvania, we are fully equipped as a 24-hour emergency animal hospital and as a center for advanced specialty care. We use sophisticated diagnostic equipment such as a CT scanner, linear accelerator, four ultrasound machines and Western Pennsylvania's only high-field MRI.
Our hospital features a 24-hour intensive care unit, multiple surgical suites and dedicated suites for endoscopy, ultrasound and oncology.
Our staff includes a veterinary social worker who is available to assist clients who are in the midst of making difficult decisions about their pets.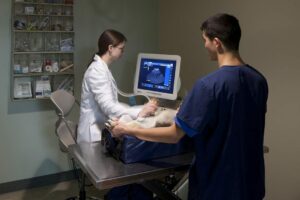 We are part of the BluePearl network of veterinary specialty and emergency pet hospitals.
---
Client Review
It has been 4 months since the surgery and she is back to being the happy go-lucky pup that we remember so well. All of the staff we interacted with were so professional and caring. I highly recommend this facility! 
Without this magnificent team, I would not have my beloved cat, Binx. You guys saved his life!

Read Lauren's full story about her cat's emergency trip to the hospital.