Preventing paralysis.
Five years ago, we found out my dachshund Bark Anthony had IVDD when two discs blew, and he lost function in his back legs. Thanks to Dr. Jodie Lamb's immediate surgical intervention, his paralysis was not permanent.
Another life-changing surgery.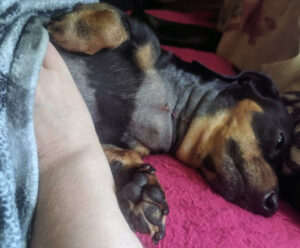 Fast forward to this year when Bark's sister Cleopuptra needed cervical surgery. She had become very agitated and had trouble breathing on Sunday night, and I knew we needed BluePearl. I cried after hearing Dr. Lamb's voice on the phone Monday morning because I knew my baby was going to be under the best of care – our angel was back on the job!
Dr. Lamb advised me of risks, but Cleo is recovering well and as stubborn as ever. All the staff members at BluePearl in Oklahoma City were caring, compassionate, and calming, which are the three most important C's in an emergency. Thank you all so much!