"Something was off."
In August, our beloved seven-year-old Boxer, Atticus, had what appeared to be a small seizure. He was alert and aware of what was happening, but something was off. He was snapping his jaw and foaming a little. Concerned, I took him to our local vet to be checked out because he suffers from an overgrowth of the gums, and I wasn't sure if that was the issue.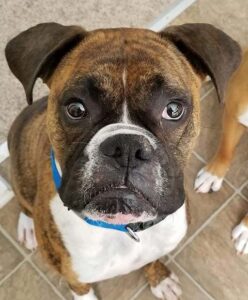 The vet gave him a thorough examination and we decided on some extended watch to see if it repeated, and we had a few plans in place. We went home, and a few hours later he went into a full grand mal seizure and I panicked. It was the most devastating thing I have ever witnessed. I called the vet to explain what happened and was told to take him to BluePearl Pet Hospital in Richmond for the best care.
We arrived at BluePearl 45 minutes later and were happily greeted by the most amazing and comforting staff. In my fear and pain, they made me feel calm, welcome and they were there for us. Our sweet boy was taken back, and we tearfully waited for the doctor to see us.
Atticus' diagnosis.
When the doctor came, she talked with us for 40 minutes. She listened, let us talk, asked us great questions and explained thoroughly her thoughts and our options. We made the choice to have an MRI and they needed to keep him overnight. The next day, the MRI results showed a large tumor on his brain. We had a few options, but ultimately, the best option for him was to say goodbye – the hardest thing I have ever done.
We were able to come to BluePearl that day. In a private room, they brought a blanket to lay on the floor and brought us our sweet boy to spend some time with. He was full of meds and tired from the day of transport and testing and damaged from a seizure he had overnight.
The tech – who I will never forget – politely said to us, "I'll be right back." She returned a few moments later, after raiding the staff kitchen with birthday cake, spaghetti, eggs, hash browns, cinnamon rolls, a jar of baby food and chicken. She said, "This sweet boy deserves a last meal fit for a king." She didn't have to do that…but she did. This moment made me know we brought him to the right place.
We tearfully said our goodbyes. My husband stayed with him through the process and when he was gone, that same nurse came back in and said, "I will stay with him so he isn't alone when you leave."
Forever grateful.
In the days to come, we received that sweetest card from BluePearl and a phone call checking on us. We chose cremation and when we finally picked him up yesterday, everyone we saw sincerely apologized for our loss. During the hardest moment we have had to go through, we received the best care. Thank you so much BluePearl of Richmond, Virginia for all you did for my family. I am forever grateful!