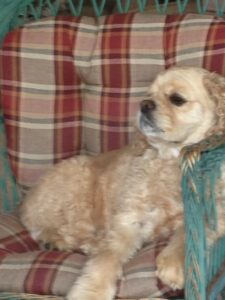 Our story begins with a visit to BluePearl Pet Hospital in Sarasota with our 8-year-old Cocker Spaniel, Sunny, who had been having what we thought were seizures.
Sunny was given a very thorough exam by Dr. Shane Falero, who determined she had an almost total AV block. The lower chamber of her heart wasn't getting the signal to contract, so she was getting minimal blood flow. Dr. Falero contacted the BluePearl Hospital in Tampa where they could finalize testing and implant a pacemaker. We were met at the door by a technician who whisked Sunny into the back room for immediate testing.
After only a short wait, Dr. Alan Spier, a BluePearl cardiologist, met with us to discuss the seriousness of her condition and the surgical options. Dr. Spier was very open with us, and we decided to go ahead with the pacemaker implant.
The care Sunny received was amazing. We received a phone call as soon as she was out of surgery and in the ICU with news of her progress. I was able to call ICU overnight for updates, and spoke with Sunny's nurse, Barbara, who was pleasant and reassuring. When we returned for her discharge, we met with her cardiac team, discussed what needed to come next, and set up a treatment plan.
Although it's only a few days post-op, and we realize she has some other issues still to be addressed, we are so glad that BluePearl helped heal our dog's heart and are grateful for the care she was given.