The Puppies Were Coming
On March 11, 2020, 7:00 pm, we took a very pregnant German Shepard to BluePearl for a possible c-section. One puppy had been born at noon but the remaining puppies were not coming out.
Fortunately, during the ride south from Fenton, Michigan the puppies started to birth – two being born in the car (yikes). When we arrived at BluePearl, the mom and pups were taken right in. BluePearl gave me supplies to clean up the car.
As I was approaching the car in the parking lot, I noticed a small pup laying in the parking lot aside the car. I immediately scooped up the pup and took it inside where the vet quickly put the pup in an incubator to warm up. For the next two hours we occupied a treatment room for the Mom to birth more pups, – which she did – two more.
The Wait
During the 2-hour birthing wait, we were offered coffee and snacks and the opportunity to go get something to eat at a nearby restaurant. A television was offered too. We left to go back home to Fenton at 9:30 pm. The staff was efficient, welcoming and caring. The cost was very reasonable.
BluePearl – My Vet of Choice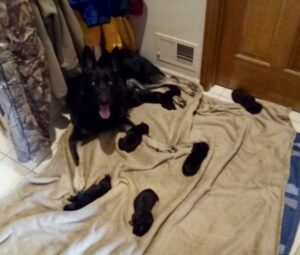 If I would live closer to Ann Arbor, they would be the vet of my choice – hands down! They are open 24/7. We had a lot of trouble finding a vet that was open for procedures after 4:00 pm in the Fenton area. BluePearl Ann Arbor was so refreshing and welcoming for an evening appointment.
I cannot thank the staff enough for their kindness.