Mosely Has Surgery at BluePearl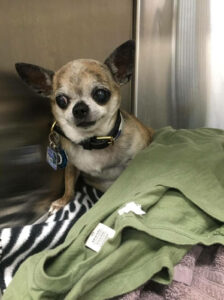 Mosely was recommended to BluePearl by my veterinarian Dr. Graham, here in Lawton, OK. Which is about two hours away from where we live.
Mosely was checked into the hospital Friday morning to be evaluated for knee surgery and a torn ligament. After he was assessed, Dr. Lamb explained in detail all about how the surgery was going to take place. She also answered all my questions that I had and was very thorough. She was extremely knowledgeable of her job and what she needed to do. The bone in Mosely's knee had to be put back into the socket.
I was really scared I was going to lose Mosely, but she assured me she would take good care of him. After surgery, she called and let me know about Mosely's condition. She also took a picture of him and sent it to me to put my mind at rest. I called several times to check on Mosely and even got to speak with him. The staff was very sensitive to my needs and understood what I was going through.
The next morning, Saturday, I picked up Mosely and the doctor on call went in depth on post-surgery instructions. She, too, was very knowledgeable about her job and answered any questions I had.
My overall experience with BluePearl was a pleasant one. The staff was very sincere and courteous. My Mosely was kept very comfortable and in great hands. I would recommend this hospital to all my friends with pets.
KellyAnn P.
Oklahoma