Sailor Says Farewell
BluePearl veterinarians worked closely with a dog named Sailor and his loving owner. We were touched by this letter that was "written" by Sailor, and we'd like to share it with you: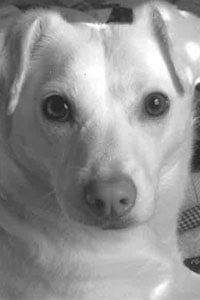 Hello: My name is Sailor and I would like to share my story and wonderful experience with BluePearl Pet Hospital doctors: Dr. Donnell Hansen, Dr. Alyssa Mourning, and Dr. Nicole Trumble.
My life changed in 2004 when my mom chose me out of the litter; I was so small and vocal that she didn't think anyone at the shelter would want to adopt me. I came home the same day with my Collie brother, Lad (by the way, I am a Lab/Corgi/Beagle!). We grew up together, 70lbs vs 25lbs, no contest, I was the boss!
I first met Dr. Alyssa Mourning, Dr. Donnell Hansen, and Dr. Nicole Trumble at the University of Minnesota, in 2006. I had a reaction to a medication following a procedure and became very ill.
Dr. Mourning took care of me and saved my life! Dr. Hansen discovered that I need a certain medication when undergoing anesthesia, and introduced me to Dr. Trumble when she had a concern with the way my eyes looked.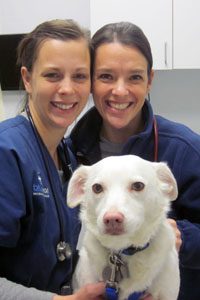 Sadly, all three doctors left the U. Luckily, a kind person alerted my mom that they all went to BluePearl, so my mom followed. Lucky for me as Dr. Hansen cleaned my teeth yearly and Dr. Mourning treated me for various medical issues.
They say that sailors have a lady in every port, but my three ladies doubled as angels. They watched over me for the last 13 years and were an important part of ensuring I was healthy with all my medical issues. Every year when getting my teeth cleaned, we would also do Sailor Selfies (mom always wondered as I would return with lipstick all over my white fur). Not only were they kind and caring to me, but they also were very supportive of my mom.
I crossed the Bridge on November 13th, 2017. I had an amazing life with my family and it would not have been possible without Dr. Mourning, Dr. Hansen, and Dr. Trumble. I am so very grateful to have had these angels watching over me and my mom.
XOXO,
Sailor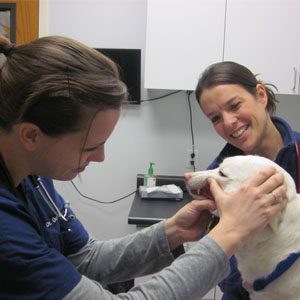 There are no words to thank Dr. Mourning, Dr. Hansen, and Dr. Trumble for all the wonderful care they provided for my Sailor. They were always looking out for him, often going above and beyond to provide the best care for him. They always recommended what was in the best interest for Sailor, they listened to my concerns, and were conscious of my financial situation. They truly cared about Sailor and me, and I am so very grateful to them for all the love and care they provided to Sailor.
Cathy