COVID-19 Protocols:
The hospital is currently following any local COVID-19 mandates. If you have questions, please feel free to give us a call.
---
BluePearl Pet Hospital – Serving Ann Arbor and Neighboring Communities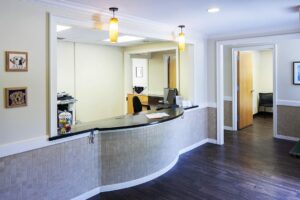 Our pet hospital is located in Ann Arbor and also serves Westland, Plymouth, Canton, Whitmore Lake, Saline, Willis, Belleville, Dexter and Ypsilanti.
Specialty and Emergency Medicine in Ann Arbor, MI
Our experienced veterinarians, vet technicians and support staff work closely together to provide the comprehensive, compassionate care your pet needs and deserves.
Specialty Care: Our veterinary specialists work directly with your primary care vet to understand your pet's condition and develop the appropriate treatment plan. Visits to our specialists are usually by referral from your primary care vet and by appointment. Learn more about veterinary specialists. We offer specialty care for your pet's cardiology needs.
About Our BluePearl Pet Hospital – Ann Arbor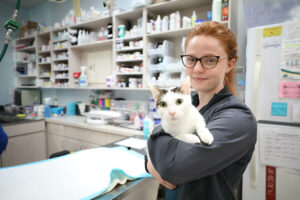 Our veterinarians and technicians work together as a skilled team, ready to perform emergency surgeries on site. That may mean an emergency C-section or treatment of life-threatening gastric torsion. We treat wounds, vomiting and diarrhea. If your dog ate something bad, we know what to do. Our emergency vets in Ann Arbor also have access to the expertise of multiple veterinary specialties through the larger BluePearl animal hospital in Southfield.
Offering Cardiology
We are pleased to offer the services of a veterinary cardiologist, a specialist who can treat issues such as:
Enlarged heart
Congestive heart failure (dogs & cats)
Congenital heart defects
High blood pressure
Irregular heartbeat (arrhythmia)
Feline blood clot disorders
We understand the financial pressures some face, and so we provide cost estimates up front. No one can put a price on your love for your pet, but we can show you a range of options.