COVID-19 Protocols:
The hospital is currently following any local COVID-19 mandates. If you have questions, please feel free to give us a call.
---
BluePearl Pet Hospital in Golden Valley – after-hours emergencies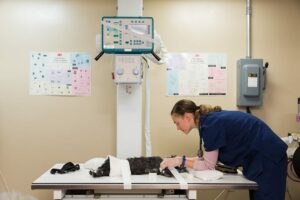 Our emergency vet in Golden Valley is convenient to downtown Minneapolis and surrounding communities.
Emergency medicine in Golden Valley, Minnesota
When you have a pet emergency, seconds count. We want you to know, your Golden Valley emergency pet hospital is ready. Our experienced team of veterinarians, vet technicians and support staff work closely together to provide the comprehensive, compassionate care your pet needs and deserves. Our Golden Valley hospital is open after hours and weekends when your primary care veterinarian may be closed. We're also open on holidays.
Emergency: In an emergency, call ahead and let us know you're coming. No appointment is necessary. Learn more about your emergency visit.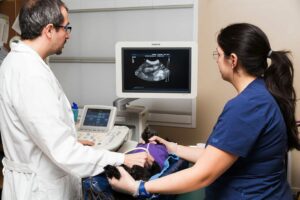 About our BluePearl Pet Hospital – Golden Valley
Previously named Affiliated Emergency Veterinary Service, it's the goal of our Golden Valley hospital to provide outstanding customer service, while offering the highest quality of emergency medicine for your pet.
From initial triage to developing an ongoing, custom treatment plan, our expert veterinarians provide compassionate care for your furry family members.
With an in-house laboratory, a pharmacy and advanced diagnostic equipment, we are your fully equipped emergency vet in Minneapolis.
Pet Owners
At BluePearl pet hospitals providing our customers, like you, with remarkable service is a top priority. We're committed to making your veterinary visit as smooth as possible. Here are the resources available to ensure you know what to expect when you visit us.
Need more answers? We're happy to help. Contact our Golden Valley hospital team 24/7 at 763. 529.6560 or clientcare.mn.gv@bluepearlvet.com.
Pet Loss and Grief Support Group Meetings
Date & Time: Mondays, 7-8 pm
Location: Golden Valley Humane Society, 845 Meadow Lane N, Golden Valley, MN
Call for more information: 612.730.6016
Areas served: Golden Valley, Blaine, Eden Prairie and Coon Rapids
Pet Loss Support Hotlines
American Society for the Prevention of Cruelty to Animals (ASPCA) National Pet Loss Hotline, 877.474.3310
IAMS Pet Loss Support Center and Hotline, 888.332.7738
The Association for Pet Loss and Bereavement, 718.382.0690, www.aplb.org
Rainbow Bridge, www.rainbowbridge.com
Coping With Pet Loss
Losing a pet can be devastating. If this has happened to your family, we are sorry for your loss.
We understand how difficult this time may be for you and your family. You may find yourself or other members of your family experiencing the same kinds of emotions you might feel if a human member of your family has died.
You are not alone. Talking about your loss or learning more about the grief process may help.
In our free Pet Loss & Grief Support Group, we talk about understanding grief and recognizing the physical, intellectual, emotional, social and spiritual reactions that you may be experiencing. We will discuss ways to honor our companion animal's life, as well as learn from and grow after the death of our beloved companion. 
Our support group is an open format where all participants can bring their current needs to the table. The group will discuss grief and loss as it relates to the needs of the individuals in the group. Additional discussions will cover grief reactions, resources, ways to express emotions related to the grieving process, and offer supportive ideas to one another.