CORONAVIRUS UPDATE:
Our hospital is open and we are taking extra precautions to continue providing remarkable care for your pets.
Please download and review this form to learn more about our new patient intake procedure prior to your visit.
---
BluePearl Pet Hospital – serving Blaine and the Twin Cities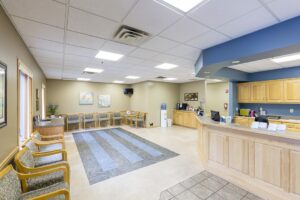 Our 24 hour pet hospital is located in Blaine and serves Minneapolis, St. Paul and more than 500 clinics in a 100-mile radius of the Twin Cities, including facilities in North Dakota, South Dakota, Canada, Wisconsin, and Iowa. 
Emergency and referral medicine in Blaine, Minnesota
When you have a pet emergency, seconds count. We want you to know, we're ready. If your pet has a condition that requires a specialist's expertise, we're ready for that too. Our experienced team of veterinarians, vet technicians and support staff work closely together to provide the comprehensive, compassionate care your pet needs and deserves.
Emergency: Call ahead to your BluePearl emergency vet and let us know you're coming. No appointment is necessary for our emergency vet. Learn more about your emergency visit.
Specialties: Our veterinary specialists work directly with your primary care vet to understand your pet's condition and develop the appropriate treatment plan. Visits to our specialists are usually by referral from your primary care vet and by appointment. Learn more about veterinary specialists.
About our BluePearl Pet Hospital – Blaine
Our 8,000 square foot hospital is a fully equipped emergency and referral hospital featuring advanced diagnostic imaging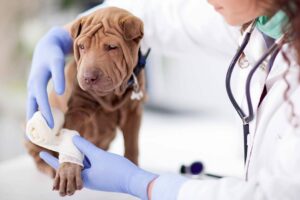 technology, which includes ultrasound, endoscopy and a CT scanner. 
Our emergency vet services, previously named Affiliated Emergency Veterinary Service, are offered 24 hours a day, seven days a week.
Pet Owners
At BluePearl pet hospitals, providing our customers, like you, with remarkable service is a top priority. We're committed to making your veterinary visit as smooth as possible. Here, you can download patient forms and find other helpful resources.
Need more answers? Contact our Blaine hospital team 24/7 at 763.754.5000 or clientcare.mn@bluepearlvet.com.
The Blood Bank at Blaine
Please contact us at 763.754.5000, ext. 109, or blainebloodbank@bluepearlvet.com. You can also visit our Facebook page for additional information. Dogs and cats often experience trauma and diseases similar to humans, as well as toxin exposures.  Often, during these unfortunate times they also require blood and blood products in order to survive.
Without the invaluable contributions of our dog and cat donors, we wouldn't be able to fulfill our mission. As the pet population continues to grow & the family views towards pets continue to change, so does the number of pets who require blood transfusions. The need is great. Your pet's donation can ultimately provide the gift of life. 
Donor Eligibility:
Good temperament & healthy

1-7 years of age

Retire on their 8

th

Birthday

Dogs: Greater than 50 lbs.

Cats: Greater than 8 lbs.

Current of vaccines – Distemper & Rabies

Year-round Heartworm & Flea/Tick prevention

Not on any long-term medications

No history of blood transfusion

Spayed or Neutered

No history of breeding

Donor cats must be indoors only, as well as the rest of the cats in the household
Blood Donor Benefits, at NO cost to the owner:
Examination by a veterinarian

Complete blood test

Heartworm test

Infectious disease testing

Blood typing

Plenty of LOVE – Hugs & kisses

Monetary credit added to your account with each donation

1 FREE transfusion for any pet in your household after 6 successful donations
Minnesota Blood Bank Brochure
Learn about the benefits and eligibility requirements for donating blood to our pet blood bank.
Download Form
New Patient Form
Download our new patient form and bring it with you to your appointment.
Download Form
What to Expect from Your Visit to BluePearl
Prepare for your visit to our pet hospital with these helpful tips.
Download Form