CORONAVIRUS UPDATE:
Effective immediately, we will be restricting public access to our building. Please review our new curbside drop-off guidelines below.
When you arrive at the hospital, please call our main number: 610-775-7535.
A technician will meet you outside and bring your pet inside for evaluation. We're asking everyone to wait in their car.
A team member will contact you over the phone to ask for your pet's history and to discuss a diagnostic/treatment plan.
Discharge instructions will also be reviewed over the phone with you.
After you've made arrangements to pay your bill, a technician will bring your pet back outside to your car.
BluePearl Pet Hospital – serving Berks County, Shillington, PA
BluePearl Pet Hospital Berks Shillington, PA is open 24/7 for pet emergencies.
We're just off BUS-222 in Shillington, southwest of Reading. 
Emergency Pet Medicine 
When you have a pet emergency, seconds count. We want you to know, we're ready. If your pet has a condition that requires a specialist's expertise, we're ready for that too. Our experienced veterinarians, vet technicians and support staff work closely together to provide the comprehensive, compassionate care your pet needs and deserves.
Emergency: In an emergency, call ahead and let us know you're coming. No appointment is necessary for our emergency vet. Learn more about your emergency visit.
About BluePearl Pet Hospital in Shillington, Berks County
BluePearl Pet Hospital is designed to provide outstanding veterinary emergency care 24/7 and specialized diagnostic and treatment services. In the event your pet requires emergency veterinary services, our skilled veterinary team is ready to assist you.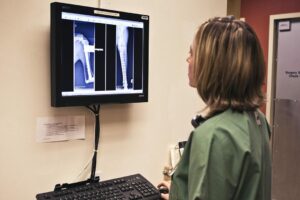 Our hospital is equipped with an in-house laboratory, advanced diagnostics, pharmacy, and an ICU to care for your pet in the event of an emergency.