COVID-19 Protocols:
The hospital is currently following any local COVID-19 mandates. If you have questions, please feel free to give us a call.
---
PVSEC – Serving Greater Pittsburgh
Our pet hospital is located in Washington, Pennsylvania and serves the greater Pittsburgh area, including the southern suburbs.
Specialty and Emergency Medicine in Washington, PA
When you have a pet emergency, seconds count. We want you to know, we're ready. If your pet has a condition that requires a specialist's expertise, we're ready for that too. Our veterinarians, vet technicians and support staff work closely together to provide the comprehensive, compassionate care your pet needs and deserves.
Emergency Medicine: In an emergency, call ahead to your PVSEC vet and let us know you're coming. No appointment is necessary for our emergency vet. Learn more about your emergency visit.
Specialty Care: Our veterinary specialists work directly with your primary care vet to understand your pet's condition and develop the appropriate treatment plan. Visits to our specialists are usually by referral from your primary care vet and by appointment. Learn more about veterinary specialists.
About Pittsburgh Veterinary Specialty and Emergency Center (PVSEC) in Washington
Our 13,500-square-foot hospital opened in the summer of 2017. We are fully equipped as an emergency animal hospital and as a center for advanced specialty care.
Our sister hospital, PVSEC in North Hills, is the largest and most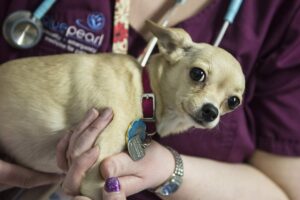 comprehensive emergency and specialty hospital in western Pennsylvania, but our Washington hospital is more convenient to many communities south of Pittsburgh.
We use sophisticated diagnostic equipment such as a 64-slice CT scanner and video endoscopy and have dedicated suites for endoscopy and ultrasound.
We are part of the BluePearl network of veterinary specialty and emergency hospitals.