Love at first sight.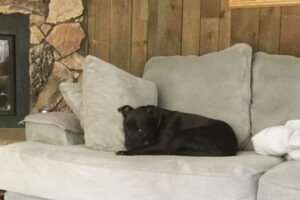 Olivia, a pitty-boxer mix, came into our lives in 2016 as a rescue from a nearby shelter. My first experience with the pit bull breed was love at first sight. She is very affectionate but made it clear to the other dogs that she would rule the roost.
A diagnosis that brought us to BluePearl.
At the young age of three, she was diagnosed with bilateral tears of her CCL ligament in both back legs. She was barely able to walk and didn't seem herself. She needed TPLO surgery on both legs, but at first, we were very hesitant. Upon her first visit to BluePearl Pet Hospital in North Hills, PA, we spoke with the surgeon, Dr. Doornink. At that moment, I was confident that I had brought her to the right place.
Olivia's return to happiness.
It has been four months since the surgery and she is back to being the happy-go-lucky pup that we remember so well. All of the staff we interacted with were so professional and caring. I highly recommend this facility!