BluePearl Pet Hospital – Serving the Greenway/Upper Kirby Area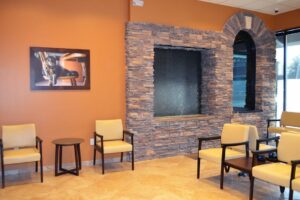 BluePearl Specialty + Emergency Pet Hospital in Greenway serves pets in the greater Houston community. Our skilled emergency clinicians are available on weeknights and weekends, so you have access to remarkable medical care when your primary veterinarian's office is closed.
Our vet hospital is conveniently located off I-69 by Bellaire Junction in the Greenway Plaza in Houston. We treat pets with urgent needs from 6:00 pm to 7:00 am Monday through Friday, as well as 24 hours on the weekends. Our surgery department is available by referral appointment Monday through Wednesday 8:00 am to 6:00 pm.
Emergency Vet Services
When your primary veterinarian's office is closed, you can trust the emergency clinicians at BluePearl Pet Hospital in Greenway to provide compassionate, comprehensive care.
Our advanced hospital is staffed and equipped to diagnose, treat and monitor urgent medical conditions in pets. Common emergencies we treat include:
Lethargy
Episodes of dermatitis or gastritis
Severe eye or ear infection
Accidents and trauma
If your pet experiences a medical emergency after hours or on the weekend, we're here to help. While you don't need an appointment for our emergency vet services, please call ahead to let us know you're coming.
Learn more about your emergency visit.
Veterinary Surgery
Available by referral from your primary veterinarian, the surgery team at BluePearl pet Hospital in Greenway performs advanced medical procedures on pets in the Houston community. Our in-house surgeon, Justin Payne, DVM, DACVS-SA, is board-certified – which means he has completed extensive training and rigorous exams in the field of veterinary surgery for small animals. He performs a wide variety of surgical procedures, including:
Tibial plateau leveling osteotomy (TPLO) – to repair a torn cranial cruciate ligament, or "CCL."

Growth removals – including tumors that affect quality of life
Joint taps – which refers to fluid drainage from a pet's joints
Dr. Payne works directly with your primary care vet to understand your pet's condition and develop the appropriate surgical treatment plan. He uses state-of-the-art equipment and technology to deliver the highest level of surgical care. 
Learn more about veterinary specialists.
Accepting BluePearl Willowbrook Patients
Recently, the BluePearl Pet Hospital in Willowbrook was closed for renovations. If you live in the Willowbrook area and are in need of emergency services or a surgical appointment for your pet, please visit our hospital in Greenway Plaza.