BluePearl Pet Hospital – serving Stone Oak and San Antonio 24/7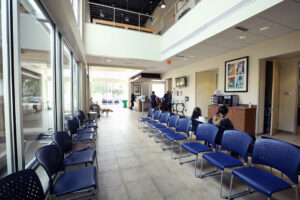 Our 24 hour pet hospital is located in Stone Oak and serves the San Antonio area and all of South Texas.
Specialty and emergency medicine in Stone Oak
When you have a pet emergency, seconds count. We want you to know, we're ready. If your pet has a condition that requires a specialist's expertise, we're ready for that too. Our experienced veterinarians, vet technicians and support staff work closely together to provide the comprehensive, compassionate care your pet needs and deserves.  
About Our BluePearl Pet Hospital – Stone Oak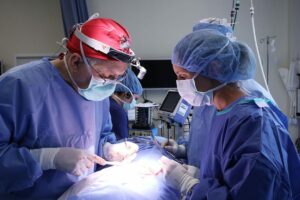 People and their pets come from all over the region to visit our Stone Oak pet hospital in San Antonio. For sick or injured animals, the ride to BluePearl Stone Oak is a journey to highly skilled care. The diverse specialties in our 19,000-square-foot hospital allow for more collaborative care.
If a 24 hour pet emergency turns into surgery, take comfort in knowing that our board-certified specialists are there for you.
Stone Oak routinely does tracheal stenting and total hip replacement. (Watch this video of a total hip replacement surgery performed by our team of specialists in San Antonio.)
We have advanced diagnostics, including MRI, CT, digital radiology, ultrasound and fluoroscopy. We also have ventilator support. 
BluePearl Stone Oak was formerly known as South Texas Veterinary Specialists and Emergency Pet Center.