BluePearl Pet Hospital – 24/7 emergency veterinary services in Katy and West Houston.
Our 24-hour emergency vet and specialty animal hospital is located in Katy, TX. We serve greater Katy and communities west of Houston, including Barker, Bellaire, Bridgeland, Brookshire, Cinco Ranch, Cypress, Fulshear, Hempstead, Jersey Village, League City, Missouri City, Pearland, Rosenberg, the Spring Branch area, Stafford and Sugar Land.
Specialty and emergency pet medicine in Katy, TX.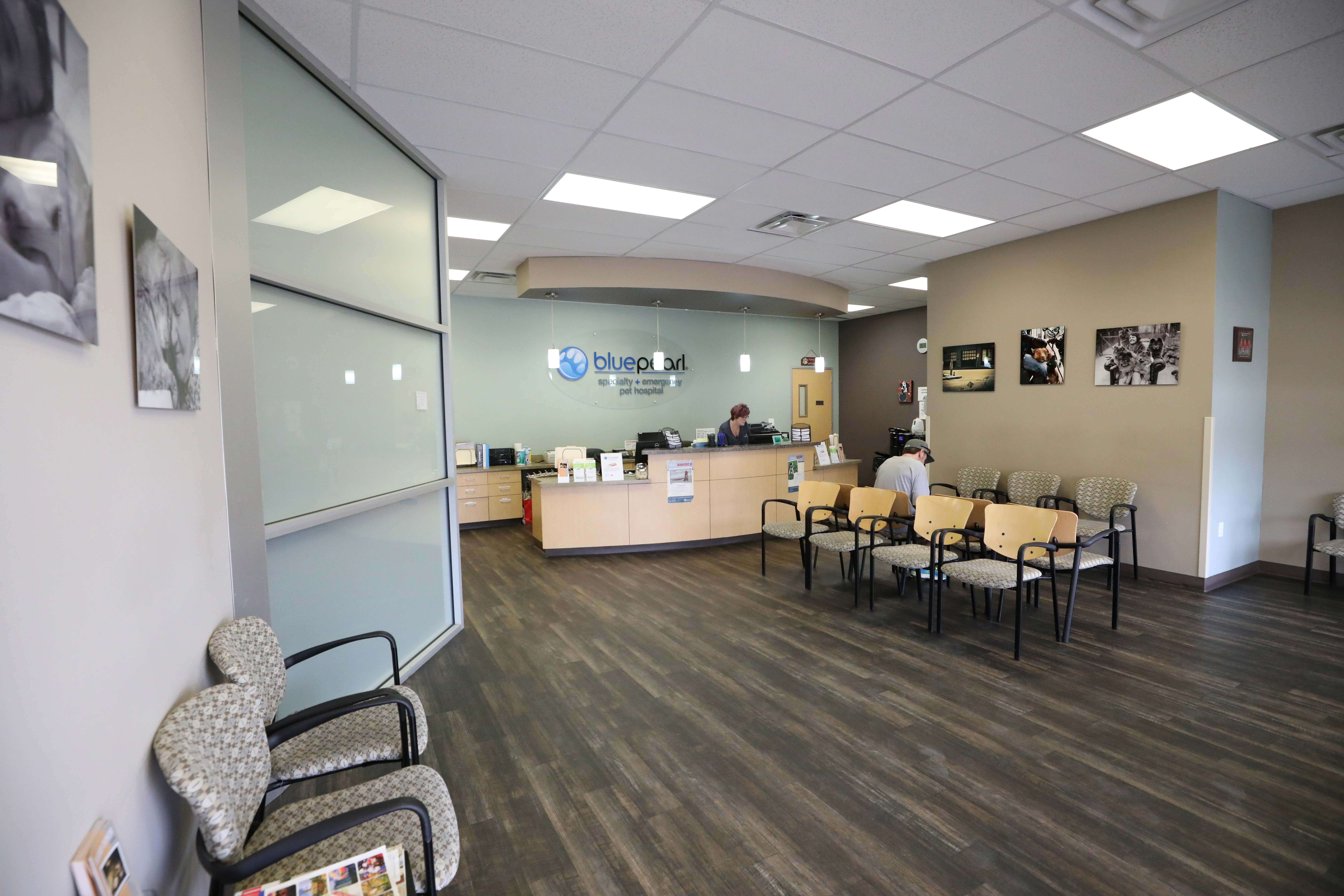 When you have a pet emergency, seconds count. We want you to know, we're ready. Our highly qualified doctors and veterinary nurses can evaluate and stabilize your pet quickly and compassionately. From vomiting to complex trauma cases, our in-house diagnostics and state-of-the-art intensive care units allow us to provide pets with the full care they need to heal.
If your pet has a condition that requires a specialist's expertise, we're ready for that too. Our experienced veterinarians, vet technicians and support staff work closely together to provide the comprehensive, compassionate care your pet needs and deserves.
Emergency: In an emergency, call ahead to your BluePearl pet hospital and let us know you're coming. No appointment is necessary for our emergency vet. Learn more about your emergency visit.
Specialty Care: Our veterinary specialists work directly with your primary care vet to understand your pet's condition and develop the appropriate treatment plan. Visits to our specialists are usually by referral from your primary care vet or by appointment. Learn more about veterinary specialists.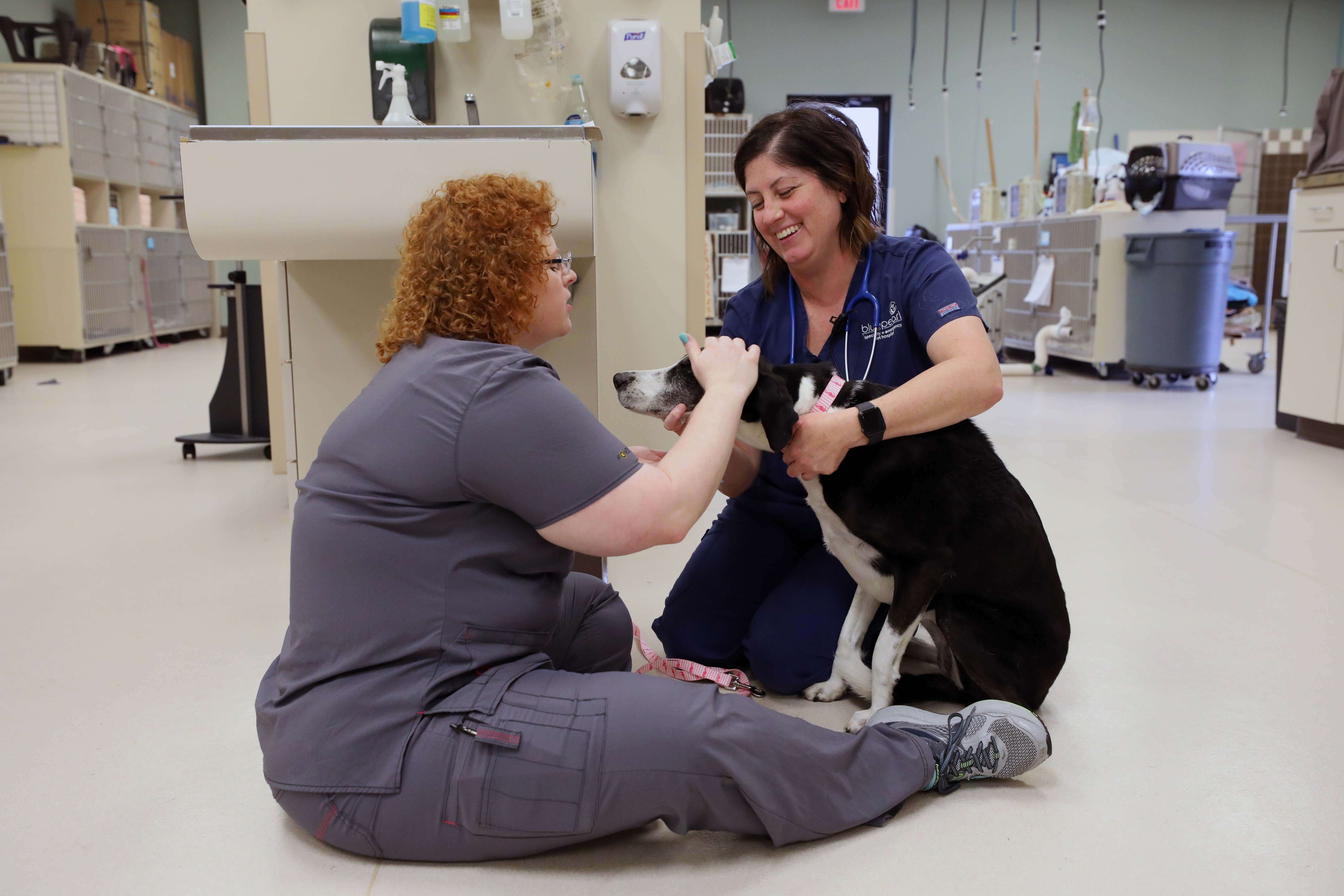 Our
veterinarians.
Caring for your pets is our passion. Meet our team of emergency vets and veterinary specialists here to help you and your pet.
About our BluePearl Pet Hospital – Katy.
Alongside the Katy Freeway, our 6,000 square-foot BluePearl pet hospital in Houston offers 24 hour emergency pet care and is easily accessible from Interstate 10 and State Highway 99.
Formerly known as North Houston Veterinary Specialists, our Houston hospital is equipped with a CT scanner, ultrasound and digital radiography.
Pet owners.
At BluePearl Pet Hospitals, providing our customers with remarkable service is a top priority. We're committed to making your veterinary visit as smooth as possible.
Have questions prior to your visit? We're happy to help. Contact our hospital team at 281.675.6000 or [email protected].
What to Expect at an Emergency Vet
Our BluePearl Pet Hospital in Katy is open 24 hours a day, 365 days a year—even on holidays. For emergency services, no appointments are necessary and walk-ins are welcome. We ask, that if possible, please call ahead so we can talk through your pet's situation and prepare for your arrival.
We have a full ER staff capable of helping pets in a crisis situation. While some emergencies are apparent, others are not. Knowing more about your pet's vital signs can help you recognize if your pet needs immediate medical attention.
Common emergencies in pets.
If your dog or cat is experiencing these symptoms or conditions, seek immediate emergency care:
Abdomen bloat (gastric dilatation volvulus, or GDV)
Seizures
Sudden complications from chronic illnesses
Exposure to toxins
Constant vomiting and/or diarrhea
Severe injury, or accident
Don't wait to bring them to our emergency hospital to be triaged and assessed by our emergency veterinary team.
Have questions prior to your visit? We're happy to help. Contact our hospital team at 281.675.6000 or [email protected].
How to prepare for an emergency vet visit.
If your pet is suddenly injured or ill, it's important to be prepared for an emergency vet visit. Here are some tips to be aware of before arriving at our pet hospital in Katy:
Submit an intake form electronically from your smartphone or computer. If this is not accessible electronically, our Client Care Coordinators will give you a form to complete when you arrive at the hospital.
Know your pet's medical history: This includes their vaccination status, any allergies or medications they take, and any underlying health conditions.
Have a list of your pet's emergency contacts: This should include the name, address, and phone number of your regular veterinarian.
Know the signs of an emergency: These can include difficulty breathing, vomiting, diarrhea, seizures, and bleeding.
Don't wait until it's too late: If you think your pet is in an emergency, don't wait to call your vet. The sooner you get your pet to the vet, the better their chances of recovery.