Coronavirus Update:
Our hospital is open! Please call to ask about our updated COVID-19 protocols, and what to expect with your visit.
---
AVS – East Orlando, serving the Orlando Metropolitan area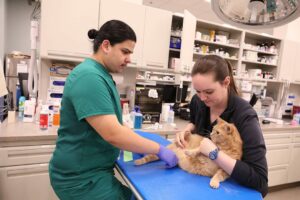 Affiliated Veterinary Specialists is located on the east side of Orlando. We opened our East Orlando hospital location in 2014 and are proud to provide the highest quality of veterinary specialty care.
Think of our medical team as an extension of your family veterinarian. We'll be staying in contact throughout the process of diagnoses and treatment to ensure that your family vet, who knows your pet's medical history, is up-to-date with our treatment plan.
Specialty Medicine in Orlando
Sometimes a cat or dog will have a problem that requires the treatment of a specialist or the use of specialized medical or surgical equipment that even the most skilled of primary care veterinarians cannot provide. For such cases, your veterinarian may refer you to our hospital. Learn more about veterinary specialists.
About Affiliated Veterinary Specialists – East Orlando
Our team of board-certified specialists, veterinary technicians and assistants offer expertise in surgery and internal medicine.
We're happy to work with your family veterinarian to ensure that your pet's unique needs are met. Treatment plans always consider your pet's medical history and are tailored to achieve the best possible outcome for your furry loved ones. 
To learn more about our pet hospital and specialties, please visit our website.