Veterinary surgery in Tampa Bay, Florida.
Veterinary Surgical Specialists (VSS) provides advanced, specialty surgery for dogs and cats. Our team of highly trained surgeons and veterinary staff are here to help you navigate your pet's health condition and make their pre- and post-surgical experience as painless as possible.
Located near Tampa International Airport in Town 'N' Country, we are convenient to the entire Tampa Bay region. We've served the area for over 20 years and have helped thousands of pets and their people through challenging times.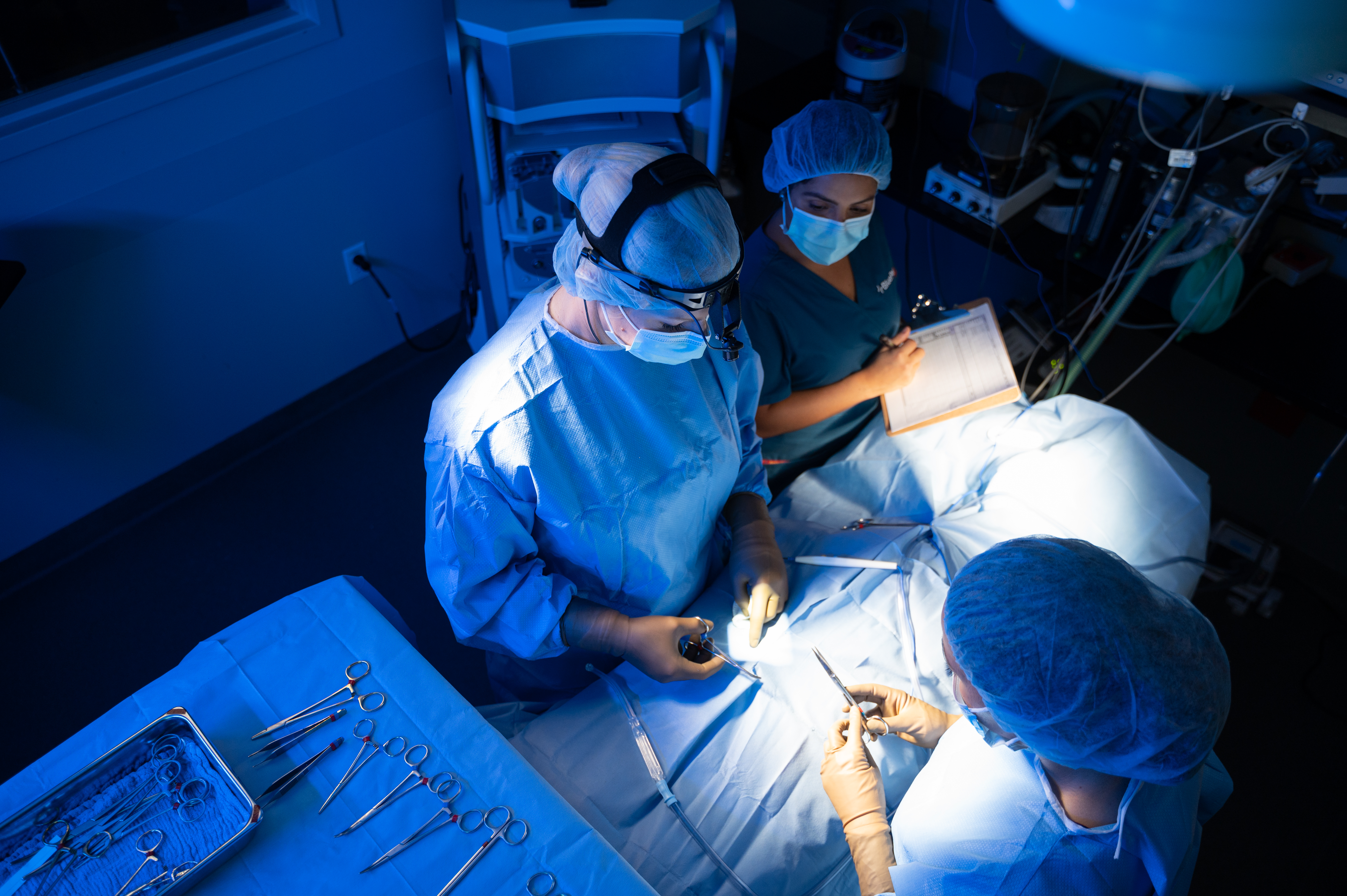 Our experienced team of veterinarians, vet technicians and support staff work closely together to provide the comprehensive, compassionate care your pet needs and deserves.
Our hospital offers a variety of advanced surgical procedures for pets, including:
Knee surgery
Abdominal surgery
Orthopedic surgery and fracture repair
Hernia repair
Head and neck surgery
Total Ear Canal Ablation (TECA)
Soft tissue surgery
Tumor and mass removal
Urogenital surgery
Thyroid surgery
Neurosurgery (on a limited basis)
If you have questions or need assistance, please give us a call. Phone follow-up is available for post-surgical patients on the weekends.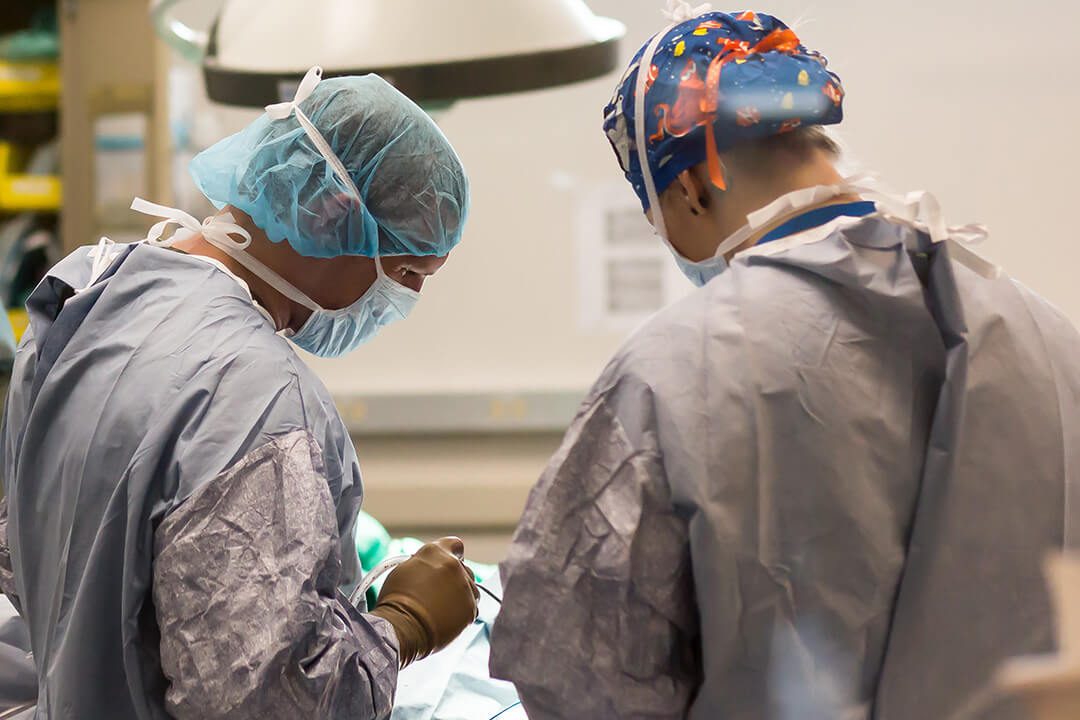 Our
veterinarians.
Caring for your pets is our passion. Meet our team of veterinary specialists here to help you and your pet.
About our specialty pet hospital.
VSS was established with the goal of helping pets in need of surgery in a comfortable, compassionate, and friendly environment. We practice to the highest ethical standards and treat our patients like our own with unsurpassed care.
Pet owners.
At Veterinary Surgical Specialists (VSS), providing our customers with remarkable service is a top priority. We're committed to making your veterinary visit as smooth as possible.
Have questions prior to your visit? We're happy to help. Contact our hospital team at 813.901.5100.
Patient admission form.
Please fill out our patient admission form prior to your pet's procedure. Completed forms can be sent to [email protected] or you can bring a copy with you on surgery day.
Before, during and after surgery.
The time before, during, and after your pet's surgery can be stressful, but we're here to support you throughout the process. We have included a few tips below that may help.
Admission.
Please call our office a day or two ahead of time to confirm the date of your pet's procedure.
Our primary admission window is between 8:15-9:30 am, but if other arrangements need to be made, please give us a call.
Food/water: We recommend that you withhold food from your pet after midnight the day prior to surgery. Access to water after midnight is okay.
Personal items: Due to our hospital's sanitization procedures, we cannot ensure that items like collars, toys or blankets will be returned. Therefore, we request that personal items for your pet not be left. Our team will provide your pet with blankets and plenty of TLC for their comfort and well-being.
Prescriptions: Please bring any medications your pet is taking and food if they're on a special diet.
The surgery day starts at 8:30 am and routinely goes to 5:00 or 6:00 pm Monday through Thursday. If your pet does not have surgery until the afternoon, please do not be concerned. Our day moves as fast or as slow as each patient needs.
Surgery day.
As part of your pet's admission process, we'll need you to sign a consent form and identify the area we will be performing the procedure on. This is a routine safety check that is also performed in human hospitals. After your pet is admitted to the hospital, the attending surgeon will check their plan.
The surgeon will call you after surgery, although it may not always be immediately after. If you miss the call, please check your voicemail as we will leave a detailed message.
All pets stay at the hospital for at least one night to ensure they are receiving appropriate pain control and recovering as planned. Visitation on the day of surgery is not permitted; we do this so we can provide the best care possible and keep your pet comfortable. Updates via phone are available any time of day.
We have a skilled staff member on duty throughout the night caring for your pet. Please feel free to call during the night for updates. If you call and the phone goes to voicemail, hospitalized patients are being actively cared for; please try calling back a little later.
After surgery.
Discharge times are Monday through Thursday from 12:00-5:00 pm and Fridays from 10:00 am-2:00 pm.
During discharge, you'll be given medications and written instructions as well as have a chance to ask any questions about your pet's care. Copies of x-rays are provided upon request.
The office is closed on weekends and major holidays. A team member checks voicemail messages periodically, and support staff is on call in case you have any questions after your pet has been discharged.
Veterinarian communication.
We strongly encourage working with a primary care veterinarian for your pet's general care. In most cases, they will be the ones to refer you to us for surgery. All patient visits to our office are communicated to a pet's family veterinarian and copies of these communications are available upon request.