---
COVID-19 Protocols:
The hospital is currently following any local COVID-19 mandates. If you have questions, please feel free to give us a call.
---
BluePearl Pet Hospital – Serving Virginia Beach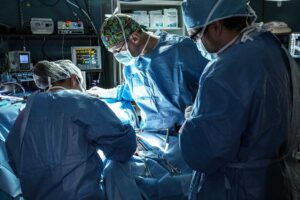 Our emergency and specialty pet hospital is located in the Town Center area of Virginia Beach and serves the Hampton Roads area. Like its sister hospital in nearby Chesapeake, it draws from Norfolk, Suffolk and Newport News, along with parts of North Carolina, including Edenton, Elizabeth City, Eure, Grandy, Kill Devil Hills, Kitty Hawk, Moyock and Nags Head.
Specialty and Emergency Medicine in Virginia Beach, Virginia
When you have a pet emergency, seconds count. We want you to know, we're ready. If your pet has a condition that requires a specialist's expertise, we're ready for that too. Our experienced veterinarians, vet technicians and support staff work closely together to provide the comprehensive, compassionate care your pet needs and deserves.
Emergency: Call ahead to our Town Center BluePearl emergency pet hospital and let us know you're coming. No appointment is necessary for emergency care. Learn more about your emergency visit.
Specialty Care: Our veterinary specialists work directly with your primary care vet to understand your pet's condition and develop the appropriate treatment plan. Visits to our specialists are usually by referral from your primary care vet and by appointment. Learn more about veterinary specialists.
About Our BluePearl Pet Hospital – Virginia Beach
Pet owners along the eastern Virginia and North Carolina coast come to our Town Center hospital in Virginia Beach for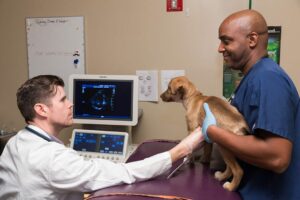 emergency vet medicine and specialty care.
Our surgery services include both orthopedic and soft tissue surgeries. Among the advanced diagnostics available are CT scans, ultrasound, digital radiology and endoscopy.
The 14,000 square-foot facility is conveniently located along Independence Boulevard south of Interstate 264 (the Norfolk Virginia Beach Expressway).
I am forever thankful to everyone at BluePearl for saving my boy's life. Without them, he wouldn't be here.
When Demi's puppy experienced liver failure, a trip to BluePearl turned out to be life-changing.