Our services.
Each BluePearl pet hospital is unique. Our Town Center hospital offers these specialties and services provided by skilled, compassionate and dedicated professionals.
Types of specialties & services.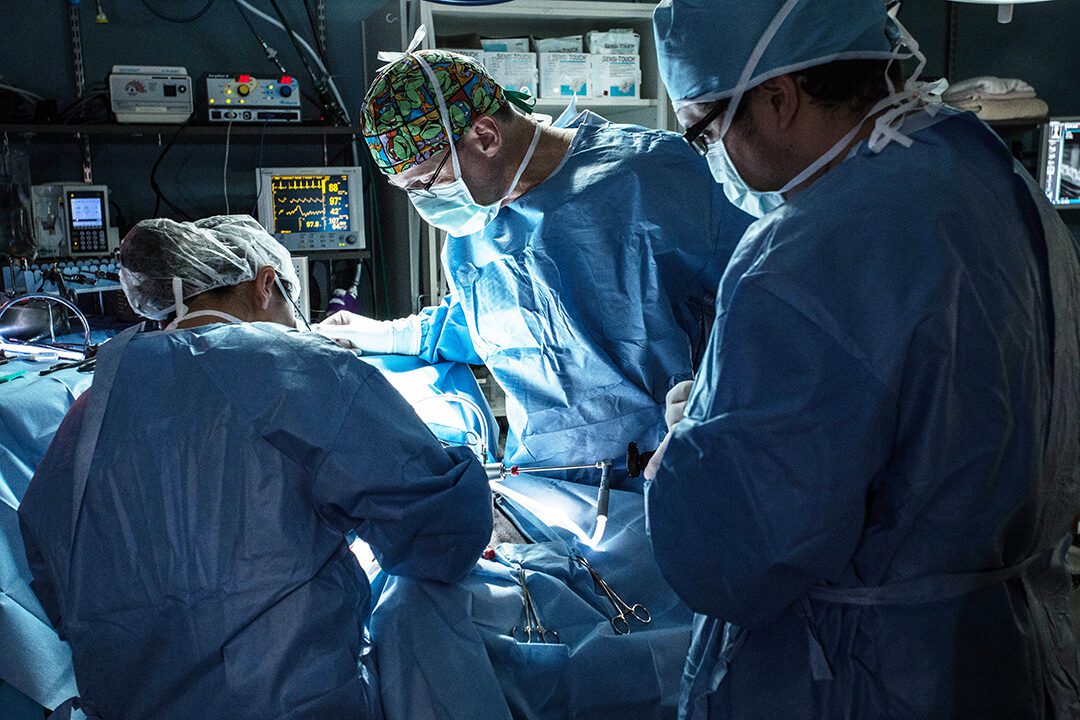 Dermatology
If your pet is suffering from a skin condition or experiencing allergy symptoms, our dermatology team is here to help. Our pet dermatologists have the training to diagnose, manage and treat common and complex skin conditions in pets. We work closely with your pet's primary veterinarian to create comprehensive care plans for the long-term management of skin complications.
Common conditions we diagnose and treat include:
Allergies (both environmental and food-related)
Acute and chronic disease of the skin and ears
Autoimmune diseases
Parasitic skin diseases (like mange)
Fungal infections (like ringworm)

Diagnostic Imaging
Our radiology service performs many non-invasive and minimally invasive diagnostic procedures. These services allow the specialty clinicians unique, non-invasive opportunities for evaluating various diseases.

Oncology
Our compassionate oncology team offers a variety of treatment options for pets with cancer. From initial diagnosis to ongoing care, we are focused on promoting your pet's quality of life.
We take an integrative approach to treating cancer that includes:
Taking time to listen to and answer all questions and concerns about cancer treatment
Creating a treatment plan tailored to each patient and client's individual needs
Working within client's schedules for therapy delivery
Maintaining regular updates with referring family veterinarians
By helping every pet owner understand their pet's disease and by providing appropriate educational tools, we all work together to improve and extend each pet's quality of life.

Surgery
When your pet needs surgery, our veterinary surgery team is ready to provide the best possible care. Our hospital is equipped with advanced tools, technology and monitoring capabilities to provide sophisticated medical care and compassionate service during your pet's time of need.
Surgery may be the best option for pets with:
Cancer
Chronic diseases like ear or respiratory tract infections
Congenital conditions like dysplasia or heart defects
Hernias
Trauma or injuries, including fractures, ligament and tendon injuries

Tin-117m Treatment
For pets facing canine elbow osteoarthritis (OA), our hospital offers tin-117m treatment that can deliver long-term relief from chronic pain and inflammation. Tin-117m is an outpatient procedure that consists of a single injection in the elbow. Most pets are sedated for the treatment and can be released the same day, returning to normal activities immediately. A veterinarian may refer you to our service, or you can inquire about appointments by calling our hospital.

Urgent Care
Our urgent care service supplements your pet's care when they are sick or injured but your family veterinarian is unavailable. Walk-ins are welcome and we offer same-day services to help your pet feel better as soon as possible.
Urgent care is for non-life-threatening conditions; if your pet is facing an emergency, please call us so we can talk you through your pet's situation and prepare for your arrival.

Compassionate Treatment
Our team respects the close bond between pets and their owners and treats each with dignity, compassion and kindness.