Coronavirus Update:
Our hospital is open and we are taking extra precautions to continue providing remarkable care for your pets. 
Please download and review the pdf (40kb) to learn more about our new patient intake procedure prior to your visit. 
---
BluePearl Pet Hospital – Richmond, VA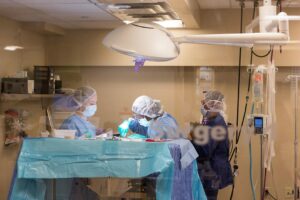 BluePearl Pet Hospital in Richmond, also known as Dogwood Veterinary Center, provides specialty and emergency services for pets. 
When you have a pet emergency, seconds count. We want you to know, we're ready. If your pet has a condition that requires a specialist's expertise, we're ready for that too.
Our veterinarians, vet technicians and support staff work closely together to provide the comprehensive, compassionate care your pet needs and deserves. 
Our 24-hour pet hospital is located in Richmond and serves central Virginia communities such as Charlottesville, Fredericksburg and Petersburg.
Specialty and emergency medicine in Richmond, VA
Our surgery service is provided by Virginia Veterinary Surgical Associates at our Richmond hospital and at their satellite surgery center in Midlothian. Learn more about veterinary specialists.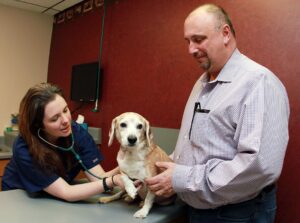 About Our BluePearl Pet Hospital – Richmond, VA
Our 20,000 square-foot hospital is staffed with highly skilled veterinary professionals who have access to advanced medical equipment and an on-site blood bank for pets. All of this means top-quality treatment for your pets.
We're proud that our team includes board-certified veterinary surgeons and internal medicine specialists.  Available by referral, our surgeons support your pet's primary veterinarian when specialized diagnostics and surgical care is needed.
Our approach combines expertise and teamwork to provide compassionate care for both our surgical pet patients and their humans.
Both of our locations are open Monday through Friday from 8 am to 5 pm. For more information, please give us a call at 804.716.4800.
Client Review
Dr. O'Connell was so good to me, my mom and my dad during the whole euthanasia procedure. She really showed her devotion and support to all of us.
Pet Owners
At BluePearl pet hospitals, providing our customers, like you, with remarkable service is a top priority. We're committed to making your veterinary visit as smooth as possible. Here are the resources available to help you prepare for your visit.
If you have questions, please contact the Dogwood Veterinary Specialty & Emergency Center at 804.716.4700 or info.richmond@bluepearlvet.com.
The Blood Bank at Richmond
Save another pet's life by donating your pet's blood. Learn about the benefits and eligibility requirements below.
Blood donor benefits:
$40 credit for our hospital for each donation – which can be rendered through our emergency, internal medicine and surgery departments
Free health screening including bloodwork to test for infectious diseases
Lots of treats, cuddles and love from our blood bank veterinary team!
Eligibility requirements for blood donors:
1-7 years of age
Dog must weigh over 50 pounds
Cats must weigh over 9 pounds
Spayed or neutered
Females cannot have previously had a litter
Up to date on vaccines
On flea/tick preventative
Dogs must be on heartworm preventative
In general good health upon examination
Cannot have received a blood transfusion (including red blood cells and plasma)
Once approved, you will be asked to commit to 12 donations, donating once every two to three months for three years.
Please contact our Richmond hospital at 804.716.4700 or email us with questions.