Veterinary Neurology & Neurosurgery in Orange Park, FL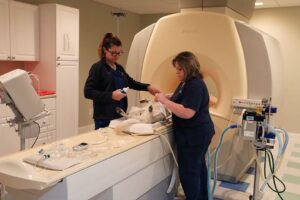 Located across the street from BluePearl Pet Hospital of Orange Park, the expert clinicians at BluePearl Pet Neurology provide exceptional care for pets with complex or challenging conditions of the brain, spine and nervous system.
BluePearl Pet Neurology is home to some of the nation's leading experts in veterinary neurology and neurosurgery. The team is led by a board-certified veterinary neurologist who has completed years of rigorous training in all aspects of the field.
Our neurology services are available by referral for pets in the greater North Florida community, including Georgia, South Carolina and South Florida.
BluePearl Pet Neurology has an on-site high field MRI and CT scanner. The surgical suite is outfitted with two Zeiss surgical microscopes and video otoscopy. In-house CSF analysis, BAER (hearing) testing, EMG and Nerve Conduction studies are also available.
BluePearl Pet Neurology was formerly known as North Florida Neurology.
Client Resources
Information about caring for your pet after spinal surgery
Information about caring for a recumbent patient after neurosurgery
Browse local pet-friendly hotels