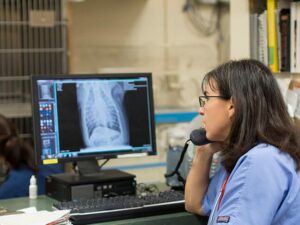 East Meets West
BluePearl veterinarians who practice integrative medicine combine traditional Western treatments with ancient Eastern practices, using skills that aren't usually offered in general practice. Many of these therapies are scientifically sound but are not familiar to all veterinarians. An integrative practitioner is a specialist in unknown, new and promising treatments.
Evidence shows these alternative therapies can be effective in alleviating pain and promoting healing. These treatments may include acupuncture, nutrition workups and dietary supplements, herbal medicine, hydrotherapy and physical rehabilitation.
Conditions we often treat with integrative medicine:
Arthritis

Chronic gastrointestinal problems

Disc disease

Hip dysplasia

Incontinence

Palliative care for renal failure and for cancer patients

Seizures
Please note: Not all services are available in all BluePearl hospitals. Contact your local BluePearl for services available at that location.