They Follow the Clues
Veterinary internists are like pet detectives: trained to take care of patients who can't tell them what's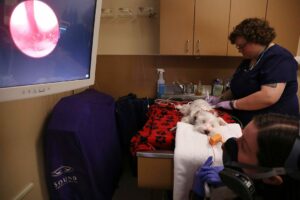 wrong, they put together clues from the pet's history, clinical signs, lab results, imaging studies and other testing to diagnose the problem.
Our internal medicine specialists can diagnose severe, chronic illnesses or symptoms that appear suddenly. Our team members often say they chose to specialize in internal medicine because they enjoy solving complex puzzles and helping their patients feel better.
By using medical technology like ultrasound and endoscopy, specialists can look inside the body and even see inside organs like the intestine, allowing them to diagnose and treat disease. Endoscopy can also be used to take biopsies – a process that previously required surgery. Board-certified internist, Dr. Otte, explains how internal medicine is the gateway to the other specialties in this video.
Conditions and illnesses we diagnose and treat:
Anemia and other blood-related illnesses

Cancer

Causes of diarrhea, vomiting, and other gastrointestinal problems, including inflammatory bowel disease and protein-losing in the digestive tract

Complications from aging

Fever

Hormone-related problems, such as diabetes, thyroid conditions, Addison's disease and Cushing's disease

Immune system problems

Infections and infectious diseases

Kidney failure and urinary problems

Liver, spleen and pancreas dysfunction

Lung and respiratory ailments, including asthma in cats and bronchitis in dogs

Unexplained weight loss