About BluePearl Science
BluePearl Science, a division of BluePearl, coordinates clinical studies that investigate the potential effectiveness of new drugs, treatments and protocols intended to improve pet health. These clinical studies offer local veterinarians and their patients access to novel and potentially lifesaving treatments and procedures.
Founded by our dedicated clinicians, BluePearl Science operates with the following goals in mind:
Create a better future for pets.

In many cases, innovative treatment solutions and pharmaceuticals can save pets' lives. Assessing the effectiveness of drugs can help protect and promote the lives of pets today, and tomorrow. 

Share knowledge and expertise with the veterinary community.
We believe veterinarians can make the greatest impact when we work together. Performing clinical studies to gain knowledge about new medical treatment options is part of our service to the national veterinary community.
Advance the industry with new medical solutions.
Clinical studies are essential in the evolution of modern veterinary medicine. When new treatment options are engineered, we want to determine how they affect a pet's medical condition and overall wellbeing.
Collaborate with primary care veterinarians.

BluePearl's emergency and specialty clinicians share a common goal with general practice veterinarians – to provide effective, exceptional care for pets. Clinical studies open the door to further collaboration among veterinarians, resulting in more comprehensive treatment plans for pets.
Leaders in Advancing Veterinary Knowledge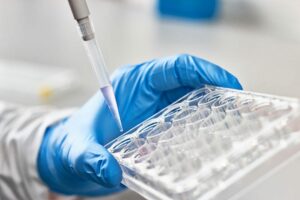 BluePearl clinicians are at the forefront of veterinary medicine. We're proud to coordinate clinical studies in the private sector and contribute to national veterinary knowledge advancement efforts from within our specialty and emergency facilities.
We perform clinical studies in highly active, fully operational hospitals equipped with advanced technology and diagnostic capabilities. Our diverse team of specialty clinicians rely upon their years of training and hands-on expertise to coordinate clinical studies aimed to treat complex pet conditions and illnesses, including lymphoma, diabetes, osteoarthritis, inflammatory bowel disease, and more.
Learn more about the BluePearl Science Institutional Review Board and meet our team of field leaders, scientists, and preeminent veterinarians.