Veterinary Leaders
The Medical Operations Advisory Board (MOAB) guides medical operations for BluePearl.
Jimmy Barr, DVM, DACVECC
Chief Medical Officer and Chairperson of the Medical Operations Advisory Board
"It's a great privilege to work with some of the brightest minds and biggest hearts in the profession. Their dedication to providing remarkable care for pets is inspiring." – Jimmy Barr
---
Martha Bennett, DVM
ER Medical Director – Nashville
A BluePearl Associate for ten years, Martha is an ER clinician in the Nashville, TN market.
She is both an ER Medical Director and the Co-Director of the internship program, providing her leadership expertise for over seven years.
---
Lauren Boyd, DVM, DACVIM
Medical Director – Detroit
Lauren joined BluePearl in 2011 and works in our Michigan hospitals. She is board-certified in internal medicine. She completed her residency in internal medicine at Animal Medical Center in New York City and her internship in small animal medicine and surgery at Veterinary Referral and Emergency Center in Norwalk, Connecticut. She earned her DVM from The Ohio State University in Columbus.
When she's not working, Lauren enjoys reading, cooking, horseback riding and hanging out with her husband, son, two cats named Cody and Clancy, and her Jack Russell terrier named Tucker.
---
Mark Dorfman, DVM, DACVIM
Regional Vice President, Medicine
Mark is one of the founding partners of Georgia Veterinary Specialists, which merged with BluePearl in 2010. He served on the BluePearl board of directors from 2010 to 2015. He is currently a Regional Vice President of Medicine for the Southeast region.
Board-certified in internal medicine, Mark completed his residency at the University of Georgia in Athens and his internship at Louisiana State University in Baton Rouge. He earned a master's degree from the University of Georgia and his DVM and undergraduate degrees from the University of Florida in Gainesville.
Mark loves spending time with his family and his dog, Odin. He also enjoys traveling, snow skiing, spending time at the beach, sampling restaurants around Atlanta and weight training.
---
Joshua Lachowicz, DVM, DACVIM
Regional Vice President, Medicine
Joshua has been with BluePearl for ten years and is a Medical Oncologist at our Queens, NY hospital. He has also served as Medical Director for two hospitals in New York and New Jersey and recently graduated from an accelerated leadership training course through MARS Vet Health.
---
Erick Mears, DVM, DACVIM
Medical Director – Tampa Bay
Erick has been with BluePearl and its predecessor, Florida Veterinary Specialists, since 1997.
Erick earned his undergraduate degree from Stanford University and his DVM from Tuskegee University in Alabama. Board-certified in veterinary internal medicine, Erick completed his residency and his internship at the University of Tennessee in Knoxville.
Erick enjoys spending time with his family and Bosco, the family cat.
---
Andrea Monnig, DVM, DACVECC
Director of Clinical Development
Dr. Andrea Monnig is Board Certified in Emergency and Critical Care. She began working as a staff Criticalist in Franklin, TN in June 2015 until she assumed her current role as the Director of Clinical Development in June 2019. In this role, Dr. Monnig oversees all of the House Officer Programs.
---
Anthony Pardo, MS, DVM, DACVS
Medical Director – Pittsburgh
Anthony is a Co-Medical Director at Pittsburgh Veterinary Specialty and Emergency Center (PVSEC), which became a BluePearl hospital in 2017.
He earned his master's degree and his DVM from the University of California, Davis. After an internship at the Animal Medical Center in New York City, he completed a residency program in small animal surgery at the University of Tennessee. Following his residency, Dr. Pardo taught on the surgical faculty at the University of Tennessee College of Veterinary Medicine for five years. In 1993, he moved to Pittsburgh and established Pittsburgh Veterinary Surgery P.C.
Anthony has authored more than 20 articles and veterinary textbook chapters and lectured extensively on various topics related to small animal surgery at national and local veterinary conferences.
He continues to work as a veterinary surgeon at PVSEC in addition to his duties as an adjunct assistant professor of orthopedic surgery at the University of Pittsburgh.
In his spare time, Anthony enjoys the outdoors, fly fishing, biking and is an avid bowler.
---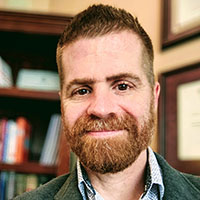 Richard Stone DVM, DACVIM (SAIM)
Regional Vice President, Medicine
Richard joined BluePearl in 2011 as an internal medicine specialist in Houston, TX. He practiced medicine and served as hospital medical director until 2018, when he took on the role of group medical director. He has also led BluePearl's biosecurity and infection control committee for several years. In 2019 Richard became the vice president of medicine for BluePearl's central region, supporting over 30 hospital teams from Texas to Michigan. He is now BluePearl's Vice President of Medicine, ensuring regional and local medical leaders across the country can deliver on our promise of remarkable care.
He completed his veterinary training and internship at Texas A&M University and completed an internal medicine residency at The University of Georgia.
When not working, Richard enjoys spending time with his wife and 3 children, along with their many pets.