The "Eyes" Have It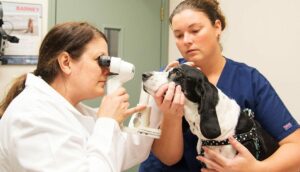 Pets need healthy eyes just like humans. And just like with humans, there are ophthalmologists who are specially trained to diagnose and treat eye problems.
BluePearl veterinary ophthalmologists treat eye conditions like ulcers, glaucoma and cataracts, as well as eye injuries. Our specialists use surgical and non-invasive techniques to help your pet retain or restore their vision.
In this video, we look at the importance of eye health for service dogs. Every May, BluePearl ophthalmologists provide free eye health exams to the service dogs who give every day. 
Conditions we treat and other services:
Breed certifications

Cataracts

Cornea injuries

Disease of the retina

Dry eye

Eyelid and eyelash injuries or abnormalities

Glaucoma

Inflammation and conjunctivitis

Third eyelid, or cherry eye