Providing Professional Growth Opportunities for BluePearl Veterinary Technicians
In honor of National Veterinary Technician Week, BluePearl Specialty and Emergency Pet Hospital will host its third company-wide case report challenge. Five finalists will present their reports in a free, live webinar on Tuesday, October 15, from 6:00 to 8:30 pm EST.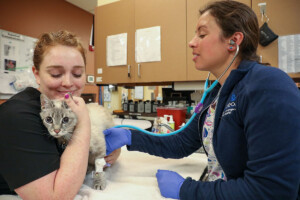 Finalists from previous years have gone on to obtain their Veterinary Technician Specialist (VTS) certifications and been published in national and international publications. Amy Newfield, CVT, VTS (ECC), program founder and Program Manager of Training at BluePearl, says that for some finalists this contest has launched their professional speaking careers.
This competition not only speaks to the importance of veterinary technician care in our hospitals, but also serves as an opportunity for professional development. Once the competition has concluded, the finalists have the option to submit their papers for publication, which many have done.
This year's five finalists were selected by a team of VTS judges from a total of 15 entrants. The submitted case reports were on the topics of diseases and trauma in dogs and cats, as well as from a variety of departments including oncology and ophthalmology.
"Through this contest, we give our technicians a national platform to share their knowledge with other professionals in the field, as well as show our deep appreciation for their work," remarked Baker. "They are critical parts of our patients' care and deserve recognition."
Associates at the more than 75 BluePearl hospitals in 24 states can watch the live webinar as well as anyone from the veterinary community.
"Anyone from the veterinary community is welcome to register for the event and log in to listen to one or all of the case reports," said Newfield. "This is the third year that we will showcase the expertise and skills of our veterinary technicians and are looking forward to seeing the reports come to life during the webinar."
Each report was reviewed by a veterinarian, and a mentor was assigned to each of the five technicians.
The five finalists are:
Rachel Uhrig – Transmissible Venereal Tumor, a Chemo Cure?
Jennifer Lyons – A Case of Precursor Immune Mediated Anemia and Concurrent Immune Mediated Thrombocytopenia with Successful Response to Immunosuppression
Christina Jeffrey – Anaphylaxis by Pork Treat
Kaitlyn Cranston – Novel Use of Thermal-Gelling Intralesional Voriconazole
Kelly Hickey – Inflammatory Bowel Disease and Sequela
The finalists are from BluePearl hospitals in New York, New Jersey, Kentucky, Pennsylvania, and Utah.