The Vomiting Patient: Questions for Pet Owners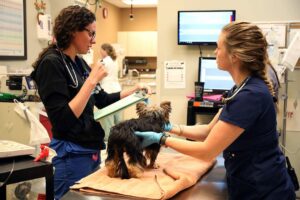 The vomiting patient is a classic, common occurrence in both primary care and referral hospitals. But clients rarely have baseline knowledge of other issues that can make material come out of the mouth, so often vomiting is inaccurately "diagnosed" at home.
Anytime I see one of these patients, my first thought is to make sure we've actually got the right problem identified, as workups can vary significantly for "vomiting look-alikes" like regurgitation, non-productive retching, and terminal retching.
I'd estimate that about 75% of the "vomiting" referrals I see are accurately identified as vomiting, which is wonderful…but that leaves a pretty substantial portion whose workup then takes a sharp turn based on a few more history questions.
Here are the questions I use when trying to determine if a patient is truly vomiting or if the condition is actually regurgitation, non-productive retching, or a terminal retch:
Did you actually see or hear the episode? Or just see the result?
If the client saw the episode, did the pet have abdominal involvement prior to bringing up material?
Did they hear retching as their first clue? If so, I'm pretty convinced it's vomiting/retching versus regurgitation. If it wasn't witnessed or heard, I dig a bit deeper.
Did material just kind of passively come up as the pet was walking around? Or, was the owner in the room but never heard repetitive retching? If so, then I'm going for regurgitation — totally different workup!
Is your pet coughing? If so, is the "vomiting" only happening after a series of coughs?
Have any "vomiting" episodes occurred separate from a coughing spell? If the only production/retching is after coughing, the cough is the primary problem — the pet just has a terminal retch due to severe coughing. We need to manage/chase the coughing, not the "vomiting." The retching will subside when the cough is better managed.
Did you see what your pet brought up? Vomitus and regurgitated material can appear identical. Both can be tubular, contain whole kibbles, and happen with any timing in relation to eating/drinking. If there's yellow or green bile present, this is more likely to truly be vomiting, but bile can sometimes be present in regurgitated material, too. Asking about red streaks or small black spots can help identify hemorrhage. Asking about any weird/foreign material can help catch dietary indiscretion or foreign bodies. If the pet is only bringing up clear/white foamy material, this is usually not very helpful for me in differentiating problems.
Workups to Reach a Diagnosis
Sometimes, despite my best efforts, there's still not a clear answer for what the most accurate problem is. If that's the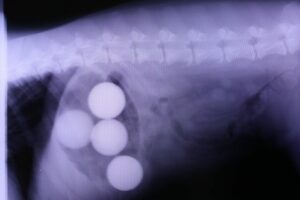 case, using my best judgment, I explain why I may want to do the following workups:
Vomiting: I usually do abdominal imaging (rads +/- ultrasound) for young dogs or known eaters-of-things. In middle-aged or geriatric pets, I usually start with bloodwork then go for abdominal ultrasound (though abdominal and chest rads are sometimes simpler/less expensive and certainly not wrong).
Regurgitation: Since this is a motility disorder, usually of the esophagus and/or stomach, I make sure chest rads are included on first-line diagnostics to catch esophageal foreign bodies and megaesophagus, or rarely, congenital anomalies like persistent right aortic arch (PRAA).
Terminal retch: Instead of an abdominal workup, I focus on treating/managing the cough that's causing the terminal retch. Diagnostics include chest rads to look for pneumonia, perhaps an upper respiratory PCR panel if I'm more worried about "kennel cough complex" diseases, etc.
Non-productive retching: If the clinical presentation fits, I make sure to exclude a GDV as a possibility. This one can be tough otherwise. Sometimes it's the typical vomiting workup; sometimes it's more oropharyngeal disease. (I've seen reverse sneezing, dysphagia, cervical masses, oral foreign bodies, tracheal foreign bodies, esophagitis, and coughing all present this way.)
All that to say, when the client says vomiting, it's absolutely worth it to ask a few more questions to make sure everyone's on the same track for workup. This can save some patients an abdominal explore for what is actually a motility or cough-related issue.