A stronger bond with our pets.
In 2020, the human-animal bond proved to be stronger than ever before. People, facing prolonged periods of isolation, looked upon pets for companionship and comfort, entertainment, stress relief, and most importantly, hope. As telework quickly became the new societal norm, adoptions for puppies and kittens spiked, with many of those adoptees being first-time pet owners.
For pet owners working from home both nationally and worldwide, companion animals are now standing in as full-time workmates; they are there at clock in, during lunch break, and at clock out. If you are working late on a project, you can bet they will be there working late with you.
Pet attunement.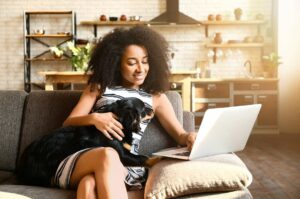 In spending countless hours together, the bond between animals and humans grew. And with that unbreakable bond came something I call pet attunement – owners knowing in definitive detail their pets' behaviors and habits, their likes and dislikes, the time of day they nap or want to be walked, and all the small cues that communicate their needs and emotions.
All of this has been revealed because of rife telework. By understanding these subtle behavioral cues and changes in their pets, owners can better tell if their pet becomes ill or injured and seek veterinary care when necessary.
This, along with many other telling pet ownership findings, is uncovered in our 2020 Pet Owner Survey, which put a lens on more than 39,000 BluePearl client behaviors and attitudes as they relate to pet care and ownership amid COVID-19. In analyzing survey findings, we found that not only are 59% of employed BluePearl clients working remotely, but more than one-quarter expect to work remotely for one year or more.
Furthermore, while pets are providing most owners with a greater sense of comfort and companionship, many pet owners claim they are discovering more about what their pet does all day, are more observant of changes in their pet's health, and are more likely to seek veterinary care if their pet is not acting like him- or her-self.
Demand for pet care surges.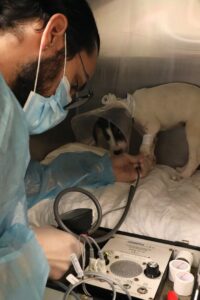 The shift in at-home dynamics, coupled with a rise in pet adoptions and an enhanced understanding of and commitment to pet health, has led to a substantial uptick in visits to the veterinarian.
In 2020, BluePearl, which owns over 100 specialty and emergency veterinary care practices across 27 U.S. states, saw over 200,000 more pets than in 2019. Of the total approximately 1.1 million pets seen at BluePearl practices in 2020, they saw 660,000 pets for the first time. However, the biggest jump in new pets seen were those less than one year of age, with BluePearl seeing 10 times the number of pets less than one year old as was seen in 2019.
Not only have caseloads increased, but the nature of these visits has changed. In BluePearl's 2020 Veterinarian Report, 44% of primary care veterinarians indicated they noticed a change in the types of care they were providing during COVID-19. Veterinarians noted seeing more:
Pets with unusual illnesses, appointment requests for sick pets, as well as an increase in the number of pet 'emergency' appointments
Pets experiencing vomiting and/or diarrhea, along with behavioral issues or trauma/injuries (i.e., injuries resulting from outdoor activities such as hiking and walking)
New clients with new pets. Veterinarians are seeing an increase in new clients due to some clinic closures/reduced hours, and newly acquired/adopted pets, specifically kittens and puppies, requiring preventative care
Lapsed pets returning with more serious, chronic diseases due to lack of previous care and/or intervention (i.e., wellness visits missed, medical issues that were put off and progressed)
Shifting our approach to care.
The rise in the demand for pet care comes as practices – both primary and specialty care – see an increase in overall patients (with more pets seriously ill or injured) and as the work of providing veterinary care takes longer. New COVID-19 safety protocols simply require more time, as Associates must adhere to updated  client interaction guidelines,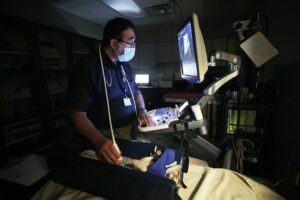 including curbside patient check-in  and check-out and  drop-off appointments.
While our number one priority was and continues to be maintaining a safe and healthy environment for our Associates, clients, and their pets, we took several steps to help ease obstacles posed by ever-increasing patient loads and new protocols.
Today, many hospitals are meeting the needs of clients at home, offering online patient check-in and check-out, remote completion of intake forms, and telehealth visits to discuss diagnoses, treatment plans, and cost estimates. BluePearl also introduced online payment options for clients in some regions – with plans to launch online payment options across the nation soon.
The COVID-19 cascade.
Solutions to new pandemic challenges (like telehealth) present their own unique set of issues. Critical face-to-face communication with clinicians and veterinary staff is now absent from the pet care equation, and telehealth technologies can be inherently difficult to manage in terms of client access and use.
Furthermore, conversations regarding a pet's end-of-life – including topics of quality of life, client finances, and euthanasia – are particularly challenging and pose a heavy emotional burden on veterinary professionals. These deep disruptions in client communications may ultimately contribute to increased Associate burnout and/or staff turnover. In fact, in BluePearl's 2020 Veterinarian Report, client communication and staff retention were among the top-rated pandemic challenges noted by primary care veterinarians.
Stepping in to help.
The new COVID-19 landscape came with many obstacles – both personally and professionally. Associates were tasked with juggling work and family, understanding and implementing new hospital workflows, and abiding by ever-changing policies to protect Associate, client, and pet safety.
To tend to the needs of our Associates as well as their families, BluePearl offered enhanced compensation and benefit policies, including supplemental paid sick leave, increased overtime rate from one and a half to double time (for hourly Associates), special 401(k) withdrawal and loan opportunities, and extended health care enrollment periods for families (a safety net for family members who may have lost or lose their job during the pandemic). We also ensured that telehealth doctor visits would continue to be covered at 100% for all Associates enrolled in a BluePearl health plan.
The way forward.
As the veterinary industry moves forward in 2021 – tackling both old and new pandemic challenges – it is critical to understand the distinct ways COVID-19 has and will continue to impact pet owners and those providing essential veterinary care.
As the technology adoption life cycle tells us, people will accept novel innovations over time; however, by pre-emptively acting today – making deliberate decisions about Associate benefits, client and patient experiences, practice workflows and more – we can create our own silver lining and ensure we continue to deliver on our purpose of creating a better world for people and pets.
About BluePearl's 2020 veterinarian and pet owner reports.
BluePearl's 2020 Veterinarian and Pet Owner Reports, entitled People and Pets in the Pandemic and Changes, Challenges, and the Coronavirus, respectively, delve deep into the state of pet health and ownership, patient care challenges, including new hospital safety protocols, communication barriers, and staff retention, an industry-wide shift to telehealth and virtual continuing education, pet owner spending, and the future of pet care.
View the full reports.
BluePearl Pet Hospitals 2020 Pet Owner Report | People And Pets In The Pandemic (PDF 877kb)
BluePearl Pet Hospitals 2020 Veterinarian Report | Changes Challenges And The Coronavirus (PDF 907kb)
This article originally appeared on Nicholas R. Nelson's, DVM, MBA, Chief Operating Officer at BluePearl Pet Hospital, LinkedIn.